AC Motor Controllers and Drives
Intelligent Drives suit motors up to 700 hp.
Press Release Summary: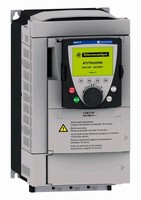 Featuring dual microprocessors and motor control algorithms, Telemecanique® Altivar® 71 variable speed ac drives handle constant torque applications. Customizable LCD display has navigation wheel that allows users to scroll through menus. Integrated Modbus® and CanOpen protocols assure integration into any device level network, and PowerSuite software allows configuration, monitoring, and diagnostics of drives through Ethernet or Bluetooth wireless connection.
---
Original Press Release:


Schneider Electric Introduces Next Generation Intelligent Drives




PALATINE, Ill. - SEPTEMBER 6, 2005 - Best-in-class motor control for up to 700 HP motors is now available in the new Telemecanique® Altivar® 71 variable speed AC drive from Schneider Electric. Dual microprocessors and motor control algorithms provide superior torque performance and speed regulation. Advanced materials reduce the drive's size by 15 percent compared to previous generations. These features make the Altivar 71 the most advanced AC drive on the market for constant torque applications.

Now one of the world's top four manufacturers of variable speed drives and soft starts, Schneider Electric specializes in motor control solutions for industrial and facility applications. The Altivar family of variable speed AC drives provides functionality by incorporating common user interfaces, common I/O options and flexible communication options over the widest horsepower range in the industry.

The operator-friendly design of the Altivar 71 line is evident in a large and easy-to-read, customizable LCD display that uses plain text words and features a navigation wheel that allows users to easily scroll through menus. The new Telemecanique drive family features a common user interface and options, from 0.5 to 700 HP. A quick-start menu incorporates macro-configurations for easy and fast commissioning.

Integrated Modbus® and CanOpen protocols assure low-cost integration into any device level network. PowerSuite software that can be used to program all Altivar drives allows configuration, monitoring and diagnostics of the Altivar 71 through an Ethernet or Bluetooth wireless connection. Among the many new features is an integrated oscilloscope function to detect operational drift on machines.

Highly expandable with I/O, communication cards and programmable controller cards, and with more than 150 built-in functions that reduce application costs, the Altivar 71 is ideal for material handling, packaging, hoisting and a wide range of process applications.

A long product life and reliability are assured by protective features at all levels, including advanced thermal protection, an integrated power removable safety function, drive protection and environmental protection in accordance with the WEEE regulations and RoHS standards. The new drive meets IEC, EN, CSA and UL 508C standards. The power removal function has been certified by an independent body for e-stop requirements.

For more information on Telemecanique automation and control solutions from Schneider Electric, visit www.us.telemecanique.com or contact your local authorized Square D / Telemecanique distributor.

Headquartered in Palatine, Ill., the North American Operating Division of Schneider Electric had sales of $2.6 billion (U.S.) in 2004. The North American Operating Division is one of four operating divisions of Schneider Electric, headquartered in Paris, France, and markets the Square D, Telemecanique and Merlin Gerin brand products to customers in the United States, Canada and Mexico. In the United States, Schneider Electric is best known by its flagship Square D brand, with Telemecanique becoming increasingly known in the industrial control and automation markets and supported by many Square D distributors. For 100 years, Square D has been a market-leading brand of electrical distribution and industrial control products, systems and services. Schneider Electric is a global electrical industry leader with 2004 sales of approximately $12.8 billion (U.S.). Visit Schneider Electric on the Internet at:

Corporate - www.us.schneider-electric.com
Telemecanique Products - www.us.telemecanique.com
Square D Products - us.squared.com
Merlin Gerin Products - us.merlingerin.com

This release is submitted for consideration in both print and Web publications


More from Fluid & Gas Flow Equipment