Intelligent Drive provides predictive maintenance.
Press Release Summary: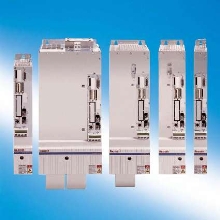 Offering early warning system in packaging machines, IndraDrive not only monitors itself, but can also independently detect any weak points within entire system, before fault occurs. If weak point is detected, warning is transferred to master control and can be displayed to user in 5 different languages. Since drive is freely programmable, user can customize predefined maintenance functions to plant-specific and/or machine-specific requirements.
---
Original Press Release:

Rexroth's New IndraDrive Provides Intelligent Detection and Evaluation for Predictive Maintenance of Packaging Machines


Company will feature its IndraDrive intelligence at MD&M East/ATX/EastPack, June 13-15, 2005 in New York, NY, Booth #2805

Although there has been substantial technological advancements in the fields of remote diagnostics and remote maintenance for automation technology, the full potential in the fields of machine diagnostics and preventive maintenance have not yet been utilized - until now.

Today's intelligent drives provide greater capabilities and flexibility for machines and systems than ever before. But decentralized drive intelligence still holds great potential in automation. This is exemplified by Rexroth's new intelligent drive system, the IndraDrive, which takes predictive maintenance to a whole new level with its intelligent firmware functionality. For the first time in the history of drive technology, Rexroth has implemented an "early warning system" that allows service and maintenance measures to be taken in advance to prevent machine breakdowns. Traditional systems are purely reactive and only permit pre-warnings that are intended to avoid failures to a limited degree. When a failure is detected, it is already too late. The machine has stopped right in the middle of a production run!

The IndraDrive not only monitors itself, it can also independently detect any weak points within the entire system -- even before a fault occurs. If a weak point is detected, a warning or fault is transferred to the master control. These messages can then be displayed to the user -- in 5 different languages. This allows for early detection of mechanical problems and the prevention of faults and errors, resulting in reduced downtime and increased productivity.

Due to the drive's capability of being freely programmable, the user has the option of customizing the predefined maintenance functions to their own plant-specific and/or machine-specific requirements. This programmability also provides optimum protection of the machine manufacturer's expertise since the drive supplier does not have to be involved in the design of the maintenance function. This innovative technology allows for smarter, simpler, more dependable and safer machines - all part of GenNextTM Technology from Bosch Rexroth.

In North America, the Bosch Group manufacturers and markets automotive original equipment and aftermarket products, industrial automation and mobile products, power tools and accessories, security technology, packaging equipment and household appliances. Bosch Rexroth Corporation, a merger of Bosch Automation Technology and Rexroth, is a wholly owned subsidiary of Robert Bosch GmbH. In the year 2003, Bosch Rexroth AG achieved sales of $4.4 billion (3.7 billion Euros) with 25,700 employees.

Under the brand name of Rexroth, the company offers all relevant drive, control and motion technologies: from mechanics, hydraulics and pneumatics to electronics and associated services. Rexroth has 500,000 customers in over 80 countries and is an extensive supplier of components and systems for industrial and factory automation and mobile applications.

Related