Intelligent Data Logger incorporates 2G/3G modem.
Press Release Summary: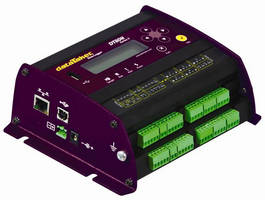 Performing remote monitoring and control tasks, DT80M is suited for where frequent access is infeasible. Cellular modem enables remote access and automated data transfer to email or FTP, while alarm and programming capabilities enable loggers to process variety of measurements and initiate actions on their own. Real-time DAQ solution has LCD and 5-15 Universal Analog Sensor Channels at ±30 Vdc input measurement range, with 18-bit resolution, expandable up to 300 analog inputs.
---
Original Press Release:

CAS Announces New dataTaker DT80M Data Logger



Intelligent Data Logger Featuring Built-In 2G/3G Modem

CHESTERLAND OH-

CAS DataLoggers has partnered with bestselling manufacturer dataTaker to announce the new DT80M Intelligent Universal Input Data Logger, an ultra low-power real-time data acquisition solution boasting the same functionality as the popular DT80 model but adding a built-in 2G/3G cellular modem enabling remote access and automated data transfer to email or FTP. Performing remote monitoring and control tasks, the DT80M is designed for a broad range of remote and outdoor applications where frequent access to the logger is infeasible, including environmental monitoring, agriculture, weather stations, vehicle testing, hydropower, and many others. This extremely versatile, easy to use solution also provides an extensive array of advanced alarm and programming capabilities enabling the loggers to process measurements and initiate actions on their own.

A robust temperature monitoring solution, the DT80M features a built-in LCD display and 5 to 15 Universal Analog Sensor Channels at ± 30Vdc input measurement range at 18-bit resolution, expandable up to 300 analog inputs. The data logger also features 12 flexible digital channels and 8 bi-directional digital channels are also standard, as well as 4 SDI-12 Channels and a serial 'smart sensor' channel. Along with the analog and digital channels, 4 high-speed counter inputs allow the DT80M to easily connect to most data measurement sources and sensors including SDI-12 and Modbus. It can measure temperature, voltage, current, 4-20mA loops, resistance, bridges, strain gauges, and frequency. Logger memory stores up to 10 million data points, and USB memory stick data collection allows another convenient option for data transfer.

The dataTaker DT80M's durable and compact construction along with its wide operating temperature range of -45°C to 70°C (-49°F to 158°F) guarantees reliable operation in virtually any environment, and the device can also run on external battery or solar power for extended periods of time. Featuring extensive remote monitoring communications, the DT80M connects to a PC from the field either locally, remotely or over the Internet via its Ethernet and USB ports. Additionally, the failsafe DETERMINEDTM communications feature periodically retries downloads interrupted by network outages until the file gets through, so users never have to worry about data gaps.

There's no need to travel long distances to access data-just utilize the internal modem's automatic data delivery features to schedule all data to be automatically emailed to a specified inbox every day, week, month, or other time interval. More sophisticated data logging systems can make use of these features to send recorded data to an FTP server. Configurable alarm conditions can also trigger data delivery in addition to sending alarm messages to multiple email addresses or mobile phones via SMS messaging, with the internal FTP server providing data to an office over the internet or mobile phone network without the need for polling or specific host software.

Free dataTaker dEX software lets users configure the data logger directly in a web browser, remotely access logged data, and see real time measurements as mimics or charts using a Windows Explorer-style graphical interface. This user-friendly software guides users quickly through configuration, suiting both novice and advanced users. The DT80M's integral modem is predominately preconfigured for simple setup using the dEX operator interface, and even lets users reconfigure the remote monitoring system via the Internet.

For further information on the DT80M Intelligent Universal data logger, other products in the highly successful dataTaker line, additional remote monitoring devices, or to find the ideal solution for your application-specific needs, contact a CAS Data Logger Applications Analyst at (800) 956-4437 or visit the website at www.DataLoggerInc.com.

Contact Information:
CAS DataLoggers, Inc.
12628 Chillicothe Road
Chesterland, Ohio 44026
(440) 729-2570
(800) 956-4437
sales@dataloggerinc.com
http://www.dataloggerinc.com

More from Software