Intelligent Control Units reduce installation costs.
Press Release Summary: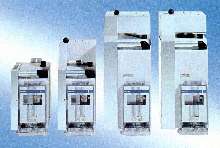 DURADRIVE decentralized drive system offers servo motors and servo drives with IP65 protection and allows decentralized use directly at the machine. Standardized bus systems reduce necessary installation outlay and allow connection to different servo drives while facilitating simpler project planning, more cost-effective installation, and faster commissioning.
---
Original Press Release:
Rexroth DURADRIVE Decentralized Drive System Designed for Use Close to Machine

The DURADRIVE decentralized drive system from the Electric Drives and Controls division of Bosch Rexroth offers servo motors and servo drives with IP65 protection that allows decentralized use directly at the machine, ensuring trouble-free operation under rough conditions. A wide range of internationally standardized bus systems, including SERCOS, Profibus, Interbus, DeviceNet and CanOpen, reduce the necessary installation outlay to a minimum and allow connection to different servo drives.

For the machine manufacturer, the DURADRIVE system facilitates simpler project planning, more cost-effective installation, and faster commissioning by providing a large number of functions such as positioning block mode, angular and speed synchronization, electronic cam, electronic cam switch group and integrated master axis generator. These functions make it easy to develop low-cost solutions for a large number of machine tool applications.

The DURADRIVE system also includes a wide range of synchronous and asynchronous motors for rotary and linear feed movements and main spindle applications. Motor choices include synchronous motors for standard applications up to 72 Nm and for enhanced requirements up to 240 Nm, asynchronous motors for main spindle applications up to 18 kW, rotary frameless motors up to 18 kW, and linear synchronous and asynchronous motors up to 22,000 N.

Bosch Rexroth Corporation, a merger of Bosch Automation Technology and Rexroth, is a wholly owned subsidiary of Robert Bosch GmbH. In the year 2001 the separate companies had total revenues of approximately $3.42 billion (3.86 billion Euros) and a worldwide total of around 26,000 employees. Divisions include Industrial Hydraulics, Electric Drives and Controls, Linear Motion and Assembly Technologies, Pneumatics, Service Automation and Mobile Hydraulics. Bosch Rexroth - The Drive & Control
Company - offers comprehensive solutions for drives and motion control in 80 countries around the world.

Vicky Fisher

Bosch Rexroth Corporation

Electric Drives and Controls

5150 Prairie Stone Parkway

Hoffman Estates, IL 60192

Telephone (847) 645-3712

Fax (847) 645-6210

vickV.fisher@ boschrexroth-us.com

Bosch Rexroth Corporation, Larry Foy, Corporate Communications

5150 Prairie Stone Parkway, Hoffman Estates, IL 60192, www.boschrexroth-us.com

Bosch Rexroth Corporation

Joe Biondo

5150 Prairie Stone Parkway

Hoffman Estates, IL 60192

Telephone (847) 645-4073

Fax (847) 645-6201

joe.biondo@boschrexroth-us.com