Intelligent Chargers support any material handling battery.
Press Release Summary: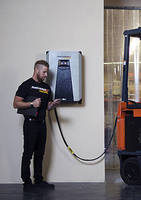 Ranging from 5–30 kW with 93% peak power efficiency, PosiCharge™ ProCore™ Series is suitable for charging electric forklift fleets of all sizes. Digital display and mobile app enable fleet managers or forklift operators to configure chargers on-the-go. Built-in ConnectRx connector health monitoring technology promotes operational safety by detecting abnormalities during charging and alerting users to possible problems while shutting down charge session to protect equipment and personnel.
---
Original Press Release:

AeroVironment Debuts New PosiCharge ProCore Series of Premium, Intelligent Chargers




Industry's first electric forklift chargers to enable charger configuration and management via mobile phone app



Supports and charges any material handling battery - regardless of type, brand, voltage or size



Easy to use, easy to install, easy to configure and provides exceptional flexibility with customizable power levels and charge algorithms



93% peak power efficiency and low overcharge factor makes ProCore the most efficient electric forklift charger available with the lowest monthly utility costs



SIMI VALLEY, Calif. – AeroVironment, Inc. (NASDAQ: AVAV), a leading supplier of industrial fast and opportunity charge systems in North America, today introduced the PosiCharge™ ProCore™ Series - a premium intelligent charging family that supports and charges any material handling battery. Ranging in power from 5kW for lower-duty vehicles to 30kW for the hardest-working electric forklifts, the new PosiCharge ProCore Series is the ideal charging solution for electric forklift fleets of all sizes.



The latest addition to AeroVironment's proven family of PosiCharge fast and opportunity charge systems, the ProCore Series includes an extensive array of features that makes it easy to use, flexible, customizable and cost-effective.



"AeroVironment PosiCharge systems established the industrial fast charge market more than 15 years ago.  Since that time we have been reducing operating costs and increasing productivity in high-velocity operations for Fortune and Global 500 factories, distribution centers and warehouses throughout North America and increasingly across the globe," noted Ken Karklin, general manager of AeroVironment's Efficient Energy Systems business segment. "Electric forklifts are playing an increasingly important role in the global supply chain, and we remain committed to supporting our customers' material handling operations with the most capable, reliable and effective charging solutions through our new premium ProCore Series of chargers."



A lightweight, powerful, highly efficient charger that consumes minimal floor space, ProCore requires no specific training to mount, install and update. Its colorful, digital display and mobile app set a new standard for ease of use by enabling fleet managers or forklift operators to configure ProCore chargers on the go.  Setting up, programming and troubleshooting ProCore chargers is now quick and easy with an iOS or Android smart phone.



Operational flexibility reduces costs and improves efficiency, and ProCore's modular powerstage offers unprecedented flexibility to accommodate any forklift fleet - from the smallest to the largest operations.  This modular design makes ProCore easy to maintain, upgrade and repurpose, and its robust, single port architecture makes it highly customizable. Additionally, PosiCharge standard multivoltage capabilities allow different forklifts with different batteries to charge on the same ProCore charger, independent of type, brand, voltage or size.



AeroVironment's entire line-up of PosiCharge systems is designed to deliver a measurable, positive impact on the environment by reducing the total number of batteries required to operate a fleet, and by improving the efficiency and performance of the battery itself. The new ProCore Series enhances these features by prolonging battery life and reducing downtime. ProCore protects battery investments by enabling the battery and charger to "speak" to each other, and is programmable for peak demand management.  Its patent pending, built-in ConnectRx connector health monitoring technology promotes industry leading operational safety by detecting abnormalities during charging and alerting users to possible problems while shutting down the charge session to protect valuable equipment and personnel.



ProCore will be available in March 2016. AeroVironment will display the ProCore line at the Modex Show, April 4-7, 2016 at the Georgia World Congress Center in Atlanta at booth number 1463.



ProCore's product video can be viewed at: https://youtu.be/gB_wTEGHU4E.



For more information, please visit http://www.posichargeprocore.com or www.posicharge.com.



About AeroVironment, Inc.

AeroVironment is a technology solutions provider that designs, develops, produces, supports and operates an advanced portfolio of electric transportation solutions and electric-powered Unmanned Aircraft Systems (UAS). AeroVironment's comprehensive EV charging solutions include the portable, dual-charging (120/240V) TurboCord, EV home charging, public charging, fast charging, data collection, grid-integrated communications and complete installation, training and support services for consumers, automakers, utilities, government agencies and businesses.  AeroVironment's industrial electric vehicle charging systems support thousands of electric materials handling vehicles in mission-critical supply chains for Fortune 500 enterprises. AeroVironment's power cycling and test systems provide EV developers and EV battery manufacturers with market-leading simulation and cycling capabilities.  The company's electric-powered, hand-launched unmanned aircraft systems generate and process data to deliver powerful insight, on-demand, to people engaged in military, public safety and commercial activities around the world.  More information is available at www.avinc.com and www.posicharge.com.



For additional media and information, please follow us at:

Facebook: http://www.facebook.com/#!/pages/AeroVironment-Inc/91762492182

Twitter: http://www.twitter.com/aerovironment

YouTube: http://www.youtube.com/user/AeroVironmentInc 

Google+: https://plus.google.com/100557642515390130818/posts



Contact:

AeroVironment, Inc.

Steven Gitlin

+1 (626) 357-9983

pr@avinc.com



More from Cleaning Products & Equipment