Intelligent Breakout Boxes simplify NVH testing.
Press Release Summary: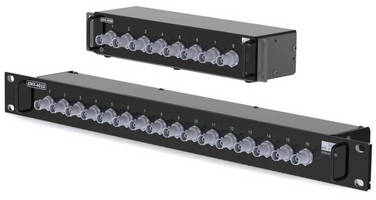 When incorporated into test solution with EMX-425X series modular dynamic signal analyzers, 8-chanel EMX-4008 and 16-channel EMX-4016 provide external trigger connector and external calibration input connector to facilitate and simplify triggering and calibration of EMX-425X cards. Both replaceable breakout boxes (BOBs) provide BNCÂ interfaces and support full range of capability of EMX-4250 series, including sampling rates to 204.8 kSa/s/channel and deterministic multi-channel phase response.
---
Original Press Release:

Intelligent Breakout Boxes to Simplify NVH Testing



Irvine, CA – VTI Instruments is pleased to announce the introduction of its EMX-4008 and EMX-4016 - 8 and 16 channel breakout boxes (BOB's) for use with the EMX-425X series of modular dynamic signal analyzers. Incorporating these BOB's into a test solution provides users with an external trigger connector and an external calibration input connector to facilitate and simplify triggering and calibration of the EMX-425X cards. The EMX-4008 and EMX-4016 provide robust BNC connections for connecting input signals directly to the EMX-42XX. Replaceable BOB's provide a quick, simple and low cost way to interface with transducers.



Both BOB's provide a convenient maintenance and troubleshooting framework; LED health indicators give visual indication for each channel alerting users of potential problems with IEPE transducers such as an open or short circuit.



Each BNC connector is connected to an independent, floating current source in the EMX-425X that provides 4.5 mA or 10 mA programmable excitation current to IEPE transducers.



The BOB's support the full range of capability of the EMX-4250 series, including sampling rates up to 204.8 kSa/s/channel, wide spurious-free dynamic range and deterministic multi-channel phase response. IEPE current of each EMX-425X channel can be independently controlled via software. This unique feature of the EMX-425X allows users to achieve full dynamic sensor range with long sensor cables.



Continue to read about the EMX-4008/4016 or find out more about our EMX-Series.



About VTI Instruments



VTI Instruments delivers precision modular instrumentation and systems for electronic signal distribution, acquisition, and monitoring, used in the world's most demanding test applications. The company's products and systems are used to monitor and record data that characterizes the physical integrity and performance of aircraft, engines, and other large structures, as well as automate the functional testing of complex electronic systems.



VTI is recognized as an industry leader with a reputation of providing reliable data, first time, every time. A sustained focus on innovation and technology enables VTIs customers to optimize their capital investment through product longevity, while ensuring unmatched measurement integrity and data reliability.



VTI Instruments is a unit of AMETEK, Inc., a leading global manufacturer of electronic instruments and electromechanical devices.



Contact Us:

VTI Sales

sales@vtiinstruments.com

(949)955-1894

More from Packaging Products & Equipment