Integrated RKE/TPMS maintains performance while conserving space.
Press Release Summary: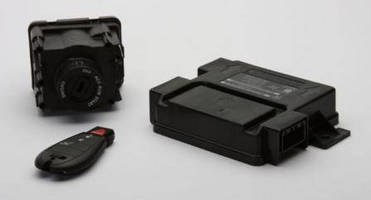 Integrated Remote Keyless Entry (RKE) and Direct Tire Pressure Monitoring system (TPMS) eliminates need for separate receivers for 2 systems while maintaining performance characteristics, using less space, as well as reducing system weight and wiring complexity. Use of multiple frequencies reduces risks associated with RFI, and technology change is transparent to vehicle owners; there is no discernible change to RKE key fob layout or performance.
---
Original Press Release:

TRW Launches Integrated Remote Keyless Entry and Tire Pressure Monitoring System



LIVONIA, Mich. – TRW Automotive Holdings Corp. (NYSE: TRW) the global leader in automotive safety systems, today announced it has launched its first integrated Remote Keyless Entry (RKE) and Direct Tire Pressure Monitoring system (TPMS) with a major Japanese vehicle manufacturer. The system delivers RKE and TPM functions with fewer parts.



"Integrating RKE and TPMS can offer enhanced value and performance," said Ken Kaiser, vice president, Global Electronics Engineering. "By eliminating the need for separate receivers for the two systems we can maintain performance characteristics, use less space, reduce system weight and wiring complexity, and ultimately lower material and assembly costs."



This system is also leading the industry in reducing risks associated with Radio Frequency (RF) interference by utilizing multiple frequencies.  In-vehicle wireless communication systems have grown exponentially in the last few years, particularly since the Federal mandate of Tire Pressure Monitoring systems in 2007.  With such wireless communication growth comes an increase in risk of RF interference.  The use of multiple frequencies in this system ensures RKE functionality in the event one of the frequencies is unavailable.



This technology change is transparent to vehicle owners as there is no discernible change to the RKE key fob layout or performance - the transmitted commands are received by a single smart receiver/ECU that processes information from the RKE fobs, and also the temperature and pressure signals sent from the transmitters located in the TPMS sensor units in each individual tire. The integrated ECU decodes the signals to activate the lock/unlock function for vehicle doors and the trunk, and provides tire pressure warning information to the driver in the same way as conventional RKE and TPMS receivers.



About TRW

With 2012 sales of $16.4 billion, TRW Automotive ranks among the world's leading automotive suppliers. Headquartered in Livonia, Michigan, USA, the Company, through its subsidiaries, operates in 25 countries and employs approximately 65,000 people worldwide.  TRW Automotive products include integrated vehicle control and driver assist systems, braking systems, steering systems, suspension systems, occupant safety systems (seat belts and airbags), electronics, engine components, fastening systems and aftermarket replacement parts and services.  All references to "TRW Automotive", "TRW" or the "Company" in this press release refer to TRW Automotive Holdings Corp. and its subsidiaries, unless otherwise indicated.  TRW Automotive news is available on the internet at www.trw.com.



CONTACT:

Lynette Jackson

TRW Automotive

+44 121 506 5315

lynette.jackson@trw.com



Louise Colledge

TRW Automotive

+44 121 506 5317

louise.colledge@trw.com



John Wilkerson

TRW Automotive

734.855.3864 

john.wilkerson@trw.com

More from Sensors, Monitors & Transducers