Integrated Drive System for Open Cooling Circuits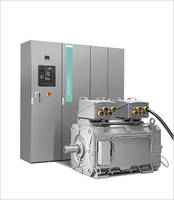 • Water-cooled Sinamics S120 converter and Simotics FD motors enable a shared cooling circuit for the entire drive system
• Available service water becomes cooling water for the drive system
• Efficient cooling concept drives down acquisition and operating costs
Based on its IDS concept, Siemens is now offering an environmentally friendly integrated drive system for open circuits comprising Simotics FD motors and water-cooled Sinamics S120 converters. Using an integrated cooling concept, the new system turns available service water into cooling water for the drive system, enabling a joint open cooling circuit for the plant, motor and converter. The joint cooling circuit allows the recooling module for the converter to be dispensed with, significantly reducing the amount of space required and providing improved economic and energy efficiency. Flexible drive trains can be created to address complex applications in fields such as the steel, automotive and process industries, as well as for offshore and shipping applications.
Water cooling is a highly effective method of dissipating heat generated by the motor and converter, and is particularly vital in the process industry. With its water-cooled drive system, Siemens is providing an efficient overall concept which makes minimal demands on the quality of the water. This means that any kind of available water, from service water customarily occurring in industry through to treated river water, can be used for drive system cooling. Because the overall system is resistant to oxygen enrichment of the cooling water, it is also able to prevent unwanted oxidation. Dispensing with additives in the cooling water not only lessens the environmental impact of the drive system but also guarantees simpler commissioning and maintenance. Use of a copper-nickel alloy makes the drive system for open circuits particularly corrosion-proof, resistant to biological growth and consequently durable. The integrated cooling concept with water cooling of both motor and converter makes for more efficient heat dissipation, significantly reducing the need for costly air conditioning. The waste heat can additionally be put to good use, increasing the overall energy efficiency of the system and, depending on the application, opening up scope for regenerative feedback. The overall system with water cooling operates with the utmost reliability even in harsh environments due to the high protection ratings which can easily be implemented for both converter and motor.
For further information on the topic of Sinamics S120, please see www.siemens.com/sinamics-s120
For further information on the topic of Simotics FD, please see www.siemens.com/simotics-fd
For further information on Siemens at the SPS IPC Drives 2016, please see www.siemens.com/sps-ipc-drives and www.siemens.com/press/sps2016
Siemens AG
(Berlin and Munich) is a global technology powerhouse that has stood for engineering excellence, innovation, quality, reliability and internationality for more than 165 years. The company is active in more than 200 countries, focusing on the areas of electrification, automation and digitalization. One of the world's largest producers of energy-efficient, resource-saving technologies, Siemens is a leading supplier of efficient power generation and power transmission solutions and a pioneer in infrastructure solutions as well as automation, drive and software solutions for industry. The company is also a leading provider of medical imaging equipment - such as computed tomography and magnetic resonance imaging systems - and a leader in laboratory diagnostics as well as clinical IT. In fiscal 2016, which ended on September 30, 2016, Siemens generated revenue of €79.6 billion and net income of €5.6 billion. At the end of September 2016, the company had around 351,000 employees worldwide. Further information is available on the Internet at www.siemens.com.
Contact for journalists:
Stefan Rauscher
Phone: +49 911 895-7952;
E-mail: stefan.rauscher@siemens.com
Related