DC to DC Power Supplies (Converters)
Integrated Converter handles output voltages of 0.8-1.2 V.
Press Release Summary: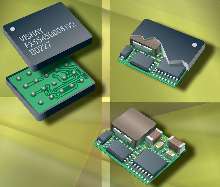 FunctionPAK® FX5545G008 consists of one single-package, DC/DC, synchronous buck converter rated for max output power of 3.6 W and max current of 3 A. It delivers power density of more than 380 W/in.³ and comes in 20-port, surface-mount, BGA package that measures 14.7 x 12.2 x 3 mm. Unit converts 2.5-6 V inputs to 0.8-1.2 V output voltage and can shift DC voltage levels while stabilizing battery outputs, filtering noise, and reducing ripple.
---
Original Press Release:

Vishay Releases Compact, Single-Package FunctionPAK® Synchronous Buck Converter Rated for Output Voltages of 0.8 V to 1.2 V


Fully-Integrated Converters in Slim BGA Simplify Design and Manufacture of Portable Electronics and Drivers

MALVERN, PENNSYLVANIA - July 21, 2003 - Vishay Intertechnology, Inc. (NYSE: VSH) is adding to its FunctionPAK® family of single-package, fully integrated dc-to-dc converters with a new synchronous buck device rated for a maximum output power of 3.6 W and a maximum current of 3 A.

The new FX5545G008 synchronous buck converter comes in a 20-port, surface-mount BGA package with an area of 14.7 mm by 12.2 mm and a maximum height profile of just 3 mm, delivering a power density of more than 380 W per cubic inch in the industry's smallest solution footprint.

Delivering high-efficiency operation over a large load range, the FX5545G008 converts 2.5-V to 6-V inputs to a 0.8-V to 1.2-V output voltage. Used in power supplies for cell phones, portable computers, digital cameras, routers, and other portable electronic systems, this new FunctionPAK device shifts DC voltage levels while stabilizing battery outputs, filtering noise, and reducing ripple. Additional FX5545G008 applications include point of load (POL) power conversion for FPGAs, microprocessors, DSPs, and DDR SDRAM drivers. No external components are required for a complete solution.

Like other FunctionPAK converters, the FX5545G008 features a programmable topology that allows designers to power multiple loads and utilize various battery configurations and chemistries with a single device. Each FunctionPAK converter draws just 1 µA of current in shutdown mode and features programmable PWM and PSM output controls to optimize power conversion efficiency in standby and idle modes, thereby prolonging overall battery life and talk time in cell phones. With 100% duty cycle control for PSM operation, each converter acts much like a saturated linear regulator to extract every bit of power from single-cell lithium ion or triple-cell NiCd and NiMH battery packs and thus deliver the highest potential output voltage.

Vishay's FunctionPAK converters feature a select combination of primary and secondary power MOSFETs, a controller IC, and up to 18 passive components in one package, taking up significantly less board space than even the tightest discrete layout while delivering efficiency up to 91%. By greatly reducing the number of components required on the printed circuit board for the power conversion function, fully integrated FunctionPAK devices enable design of smaller, lighter portable products and streamline the product development, testing, purchasing, and assembly processes for OEMs.

For maximum reliability, the BGA package for FunctionPAK is rated for the full industrial temperature range of -40°C to +85°C and specified for military operating temperatures, shock levels, and moisture resistance.

Samples and production quantities of the FX5545G008 are available now, with lead times of eight weeks for larger orders. Pricing for U.S. delivery only in 10,000-piece quantities starts at $4.90.

Vishay, a Fortune 1,000 Company listed on the NYSE, is one of the world's largest manufacturers of discrete semiconductors (diodes, rectifiers, transistors, optoelectronics, and selected ICs) and passive electronic components (resistors, capacitors, inductors, and transducers). The Company's components can be found in products manufactured in a very broad range of industries worldwide. Vishay is headquartered in Malvern, Pennsylvania, and has plants in sixteen countries employing over 25,000 people. Vishay can be found on the Internet at www.vishay.com.

FunctionPAK is a registered trademark of Vishay Intertechnology.

More from Material Handling & Storage