Integrated Closure Manufacturing Systems deliver fast cycle times.
Press Release Summary: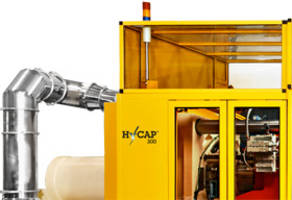 Used for beverage closure manufacturing, HyCAP™4 system delivers machine, mold, and auxiliary integration features that promote productivity, energy efficiency, and simplified operation. It can run 1.25 g 29/25 closure for mineral water application at 2.4 sec cycle time. For manufacture of specialty closures, HyperSync™ synchronizes machine and mold functions and integrates eIMC™ in-mold closing technology. It can manufacture 6.1 g flip-top closure for shampoo bottle at 8.5 sec cycle time.
---
Original Press Release:
Husky Unveils its Latest and Greatest at K 2016 - Hall 13, A61
Company returns to globally debut two new integrated closure systems

BOLTON, Ontario – Husky Injection Molding Systems, a leading industrial technology provider to the plastics processing community, kicked off its participation in K 2016 today by demonstrating, for the first time ever, two complete, integrated closure systems. The recently introduced HyCAP™4 system for beverage closure manufacturing has been drastically improved. Husky developed the new HyCAP™4 system with more machine, mold and auxiliary integration features to offer increased productivity, energy efficiency and a simplified operator experience. The HyCAP™4 is running a 1.25 gram 29/25 closure for a mineral water application at a 2.4 second cycle time. For the first time, the company also demonstrated its new system solution for the manufacture of specialty closures, HyperSync™. The HyperSync™ system is manufacturing a 6.1 gram flip-top closure for a shampoo bottle application running an extremely fast 8.5 second cycle time. The integrated eIMC™ in-mold closing technology attracted large crowds to the company's stand (Hall 13, A61).

"We are very excited about what the HyperSync™ platform will offer those customers looking for increased integration of machine and mold for unique applications," said Steve Lawrynuik, President of Husky's Medical and Specialty Packaging business. "The name is really reflective of what the integration of machine and mold features can do, which is synchronize the machine and mold functions; extremely well and at impressively fast cycle times." The fully integrated eIMC™ in-mold closing technology provides more precise control during molding, with safe overlapping of mold functions to enable better part quality, while providing a more than 20% cycle time improvement. Both of these systems will be running for the duration of the show and will feature live daily demonstrations for all audiences. Information on demonstration times is available at Husky's stand (Hall 13, A61).

As a leader in PET preform manufacturing, Husky is showcasing a diverse range of fully integrated low and high volume injection molding solutions that not only maximize productivity, efficiency and part quality, but also help to improve the design and functionality of packaging for a variety of applications. The latest PET release from the company is the new Multi-Layer Barrier Technology, which offers tremendous opportunity to explore PET as a packaging material for products requiring enhanced barrier properties that are traditionally packaged in materials such as glass, carton and aluminum. At the booth Husky has a complete Multi-Layer Barrier experience center as well as a layer watcher vision inspection system from Intravis.

Under the Schöttli® brand name, Husky is showcasing its high-quality solutions for plastic medical applications. On display are a variety of parts for target medical applications, highlighting how Husky eliminates risk in the molding process and ensures safer devices for end-users. Also on display is a 64 cavity Schöttli® barrel mold, showcasing the high capacity and precision manufacturing Schöttli® is known for.

In the Hot Runners and Controllers pavilion within the Husky booth, visitors will find the Ringier Award-winning Ultra Helix™ Valve Gate nozzles and live demonstrations of the easy-to-use servo actuation on the new Altanium® Servo Control technology. Also showcased are the most recent automotive solutions, including UNIFY™ Pre-assembled Manifolds and the LUCENT™ angled manifold, designed for automotive lenses.

About Husky
Husky Injection Molding Systems Ltd. is a leading global supplier of injection molding equipment and services to the plastics industry. The company has more than 40 service and sales offices, supporting customers in over 100 countries. Husky's manufacturing facilities are located in Canada, the United States, Luxembourg, Austria, Switzerland, China, India and the Czech Republic.

For more information:
Media Relations
Husky Injection Molding Systems
media@husky.ca
More from Architectural & Civil Engineering Products