Integrated Circuits support Bluetooth® Low Energy v4.1.
Press Release Summary: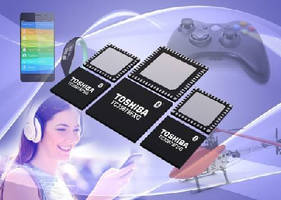 Based on ARM® Cortex®-M0 processor, Models TC35678FSG, TC35678FXG, and TC35679FSG support Bluetooth® LE v4.1 communications for Bluetooth Smart devices, including wearable electronics, sensors, and high-end coin battery-powered devices. TC35679FSG is a mask-ROM-based product with no built-in Flash ROM, while TC35678FXG and TC35678FSG incorporate built-in 256 KB Flash ROM to store user programs and various data in standalone operations. ICs operate from 1.8–3.6 V at temperatures from -40 to 85°C.
---
Original Press Release:

Newest Toshiba ICs for Bluetooth® Smart Devices Deliver Industry-Leading-Class Low Current Consumption



Chips aim to aid adoption of Bluetooth LE for wearables, sensors, other small devices



SAN JOSE, Calif.,  -- Toshiba America Electronic Components, Inc. (TAEC)*, a committed leader that collaborates with technology companies to create breakthrough designs, today introduced three new integrated circuits (ICs) that support Bluetooth® Low Energy (LE)1 ver.4.1 communications for Bluetooth Smart devices2, including wearable electronics, sensors and high-end coin battery-powered devices. At 3V supply voltage, the TC35678FSG, TC35678FXG and TC35679FSG consume just under half the power of previous Toshiba products3 – in turn, achieving current consumption on par with the lowest in the industry4.



The new ARM® Cortex®-M0 based ICs combine an original low-power circuit design with the highly efficient DC-DC converter introduced in earlier products. This allows the chips to reduce current reduction by nearly 46 percent compared to the prior products, and to realize peak current consumption of 3.6 milliamps (mA) at 3V in transmitting mode.



Deepak Mithani, senior director, Mixed-Signal Business Unit, System LSI Group at TAEC, noted, "While Bluetooth-powered devices are continuing to grow in popularity and volume, one key consumer issue creates the greatest challenge for manufacturers: battery life. Users want ubiquitous Bluetooth connectivity without rampant power consumption hindering performance. These new ICs build on Toshiba's proven expertise in Bluetooth LE connectivity while delivering current consumption on par with the lowest available to date, creating a highly attractive solution for OEMs to design into their Bluetooth Smart products."



The TC35679FSG is a mask-ROM-based product with no built-in Flash ROM and can achieve extremely low current operation by reducing current consumption that would be used for access to Flash ROM. Well-suited for applications with external host MCUs, it also supports external EEPROM over an I2C interface to support standalone mode. Accordingly, it can achieve long operating times for applications powered by small coin batteries. For example, using a CR2032 type coin battery, the new IC can carry out beacon operation for more than a year5.



TC35678FXG and TC35678FSG chips include all TC35679FSG features and additionally incorporate built-in 256KB Flash ROM to store user programs and various data in standalone operations, eliminating the need for external EEPROM and helping lower mounting cost and area. Out of 256KB Flash ROM, approximately 200KB is available for user application. Further, SRAM memory capacity for user programs is extended to 100 kilobytes (KB) from 64KB in previous products, contributing to expandability of application programs. The TC3678 family of chips also supports over-the-air (OTA) firmware upgrades.



All three ICs operate at voltage ranges of 1.8V to 3.6V and temperature ranges of -40ºC to 85ºC. The TC35678FSG and TC35679FSG are housed in 5mm x 5mm QFN40 packages. The TC35678FXG is a TC35678FSG repackaged in a 7mm x 7mm QFN60 package that extends the number of general-purpose I/Os from 16 to 32. It is suitable for equipment that requires a large number of control pins, such as keyboards and remote controls.



Availability

Samples of the TC35678FSG/FXG and TC35679FSG Bluetooth LE ICs begin shipping today. Mass production of TC35678FXG is scheduled to begin by the end of 2016; the other two ICs will commence mass production in early 2017.



1. Low-power-consumption communication technology defined in Bluetooth ver.4.1

2. Devices that adopt Bluetooth core specification ver.4.1 or higher with low-energy core configuration, and that use GATT-based architecture specified in Bluetooth ver.4.0

3. Compared to Toshiba's TC35667

4. Products with the same ratings (current consumption of 3.6 milliamps (mA) at 3V in transmitting mode with 0dBm) are the lowest in the industry as of July 14, 2016, Toshiba survey

5. Calculated with a 220mAh battery and 2-second beacon interval time



The Bluetooth word mark and logos are registered trademarks owned by Bluetooth SIG, Inc.; Toshiba uses them under license.



ARM and Cortex are registered trademarks of ARM Limited in the EU and other countries.



*About TAEC

Through proven commitment, lasting relationships and advanced, reliable electronic components, Toshiba enables its customers to create market-leading designs. Toshiba is the heartbeat within product breakthroughs from OEMs, ODMs, CMs, VARs, distributors and fabless chip companies worldwide.  A committed electronic components leader, Toshiba designs and manufactures high-quality flash memory-based storage solutions, solid state drives (SSDs), hard disk drives (HDDs), solid state hybrid drives (SSHDs), discrete devices, custom SoCs/ASICs, imaging products, microcontrollers, wireless components, mobile peripheral devices, advanced materials and medical tubes that make possible today's leading smartphones, tablets, cameras, medical devices, automotive electronics, industrial applications, enterprise solutions and more.



Toshiba America Electronic Components, Inc. is an independent operating company owned by Toshiba America, Inc., a subsidiary of Toshiba Corporation, Japan's largest semiconductor, solid state drive and hard disk drive manufacturer and the world's seventh largest semiconductor manufacturer (Gartner, 2015 Worldwide Semiconductor Revenue, January, 2016). Founded in Tokyo in 1875, Toshiba is at the heart of a global network of over 580 consolidated companies employing over 199,000 people worldwide. Visit Toshiba's web site at http://toshiba.semicon-storage.com.



© 2016 Toshiba America Electronic Components, Inc. All rights reserved. Information in this press release, including product pricing and specifications, content of services and contact information, is current and believed to be accurate on the date of the announcement, but is subject to change without prior notice.  Technical and application information contained here is subject to the most recent applicable Toshiba product specifications.



COMPANY CONTACT:

Aisha Vincenti

Toshiba America Electronic Components, Inc.

Tel.: (949) 462-7920

aisha.vincenti@taec.toshiba.com



Web Site: http://www.toshiba.com/taec



More from Machinery & Machining Tools