Integrated Circuit suits single-cell Lithium-Ion systems.
Press Release Summary: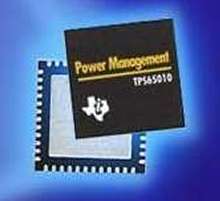 Offered in 48-lead, 7 x 7 mm QFN package, TPS65010 battery charging and power conversion integrated circuit (IC) delivers performance and power conversion efficiency up to 97%. Product integrates 2 synchronous step-down DC/DC converters with integrated FETs, one 1-A converter, and one 400 mA converter. It deploys pulse frequency modulation and PWM switching technology and conserves battery by providing quiescent current of 70 µA.
---
Original Press Release:

TI Combines Key Power Management Ingredients on Single Chip for Single-Cell Lithium-Ion Systems


Integrated IC Delivers Highest Performance, Power Efficiency, Design Flexibility in Smart Phones, PDAs and Other Mobile Applications

DALLAS (Aug. 4, 2003) - Building on recent advancements in signal processing technologies, Texas Instruments Incorporated (TI) (NYSE: TXN) announced today a highly integrated, feature-rich battery charging and power conversion integrated circuit (IC) that delivers unmatched levels of high performance and power conversion efficiency up to 97 percent. The smart power IC fulfills every major power management requirement for single-cell lithium-Ion (Li-Ion) or lithium-polymer (Li-Poly) battery-powered applications that contain multiple power rails and advanced application processors such as personal digital assistants (PDAs), smart phones and digital cameras (See: power.ti.com/sc03124.)

"Mobile consumers continue to demand battery-powered products with increased features and functionality that will require power-efficient processors along with proven battery management technology to help maintain battery life and system run-times," said Dave Heacock, director of TI's portable power management business. "Designers of high performance, application-based portable products can quickly solve highly complex battery management and integration issues by making the most of TI's best performing advanced battery management products -- now fully integrated onto one piece of silicon."

The TPS65010 power IC leverages TI's 3307A12 manufacturing process technology to integrate essential control building blocks, external components such as switching and charging FETs, and battery management intelligence to more efficiently manage power for applications processors such as TI's high performance, low-power OMAP(TM) processors. With this advanced manufacturing process, the TPS65010 occupies up to three times less board space when compared to discrete solutions with similar levels of functionality.

The 7 mm x 7 mm device integrates two synchronous step-down DC/DC converters with integrated FETs, one 1-A converter for system voltages and one 400-mA converter for processor cores. It deploys pulse frequency modulation and pulse width modulation switching technology to support peak efficiencies of 97 percent and maximum efficiency across a wide range of load currents. The TPS65010 further conserves the battery by providing an extremely low quiescent current of 70 µA and several low-power modes.

The IC also incorporates two 200-mA low dropout (LDO) regulators for additional voltage generation, allowing for supply from one of the two integrated step-down converters or directly from the battery, and operating with an input voltage range between 1.8 V and 6.5 V. The TPS65010 includes TI's latest linear battery charger technology with integrated 1-A charge FET with universal serial bus (USB) and AC-adapter supply management that automatically selects the USB input or AC adapter as a charging source. An integrated current sensor with programmable current set-point provides design flexibility and eliminates the need for bulky external sense resistors. The integrated charger also provides high accuracy current and voltage regulation, charge status indication and termination.

An I2C(TM) compatible communication interface supports frequencies from 100 kHz and 400 kHz, and allows easy control of various operational modes of the TPS65010's charging, DC/DC conversion and low drop-out regulation parameters.

Available Today

The TPS65010 is now available in volume from TI and its authorized distributors. Packaged in a 48-lead 7 mm x 7 mm QFN package, suggested resale pricing is $4.99 per unit in quantities of 1,000.

Texas Instruments Incorporated provides innovative DSP and analog technologies to meet our customers' real world signal processing requirements. In addition to Semiconductor, the company's businesses include Sensors & Controls, and Educational & Productivity Solutions. TI is headquartered in Dallas, Texas, and has manufacturing, design or sales operations in more than 25 countries.

Texas Instruments is traded on the New York Stock Exchange under the symbol TXN. More information is located on the World Wide Web at: www.ti.com

Please refer all reader inquiries to:
Texas Instruments Incorporated
Semiconductor Group, SC-03124
Literature Response Center
Box 954
Santa Clarita, CA 91380
800-477-8924

Trademarks:

OMAP is a trademark of Texas Instruments. I2C is a trademark of Philips Electronics.

More from Architectural & Civil Engineering Products