Integrated Circuit suits free-to-view TV set-top boxes.
Press Release Summary: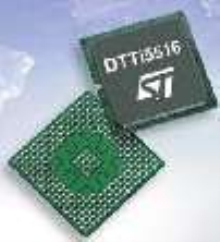 Available in 27 x 27 mm PBGA package, DTTi5516 combines MPEG decoder and terrestrial demodulator in one package. It is suited for free-to-air terrestrial set-top boxes (STBs) as well as STBs using DVB-MHP (DVB-Multimedia Home Platform). Single-chip solution allows TV viewers to watch digital terrestrial TV (DTT) channels on analog TV. Pin-out of device ensures that 2-layer printed circuit layout is possible.
---
Original Press Release:

STMicroelectronics Combines Digital Terrestrial Set-Top Box Chips to Reduce Costs for Consumer Electronics Manufacturers


MPEG decoder and terrestrial demodulator are now available in a single package from the world's leading supplier of integrated circuits for free-to-view TV set-top boxes

Geneva, March 23, 2004 - STMicroelectronics (NYSE: STM) has announced its first single chip solution that allows TV viewers to watch digital terrestrial TV (DTT) channels on their analog TV. The new DTTi5516 performs the functions of the terrestrial demodulator - the 'front end' of the Digital Converter Box (DCB) - and the MPEG decoder, which decompresses the digital signal. The DTTi5516 is not only suited for today's free to air terrestrial set-top boxes (STBs), but also its high performance CPU and enhanced graphics capabilities make it the ideal choice for low cost STBs using DVB-MHP (DVB-Multimedia Home Platform).

ST is the world's largest supplier of silicon chips for set-top boxes1. Around 90% of the boxes supplied to the fast growing UK market for the pioneering Freeview digital terrestrial TV service are based on ST chips; more than three million STBs have been sold since the launch of the Freeview service in October 2002. ST announced in December 2003 that it had already shipped a total of more than 2.5 million chipsets for digital terrestrial TV receivers in the UK. The DTTi5516 meets all the requirements of the UK market and is already supported by a large number of software developers both in the UK and in mainland Europe. In Italy - which has set an ambitious target of achieving analog switch-off in 2006 - broadcaster Mediaset is currently carrying out DTT field trials in which all of the STB manufacturers have chosen to base their designs on an ST chipset.

For consumers choosing a set-top box or 'digital converter box', price is the overriding factor. The retail price of the early STBs was set aggressively at just below £100 in the UK, but many now sell at considerably less, putting enormous pressure on manufacturers to minimize costs. By combining two major DTT functions into a single chip, ST will help to reduce production costs, not just in the lower cost of the chipset but principally by allowing a simpler and smaller printed circuit board (PCB) design. The pin-out of the new device has been designed to ensure that a two-layer printed circuit layout is possible despite the functional complexity of the STB.

"The introduction of this new device confirms ST's continued leadership in the STB market," said Christos Lagmichos, General Manager of ST's Set-Top Box Division. "Greater functional integration at the chip level will eventually lead to lower prices for consumers, making it even more attractive for them to access the broad range of free-to-view digital channels."

To minimize design costs for Digital Converter Box producers, ST developed a low-cost building block concept known as the 'digital brick' - a complete reference design for the DCB which is offered with full design support, including circuit schematics, printed circuit board layout and core software. STB manufacturers can use it unchanged as their design, or can adapt it to meet particular requirements.

"We have already designed the DTTi5516 into our STBs initially for the Spanish DTT market," said Javier Hernanz, Research and Development Director of Sanyo Spain. "We fully expect this device to provide a stable and cost-effective platform for viewers to enjoy all the benefits of digital terrestrial television."

ST's 'digital brick' was a key catalyst for the rapid introduction of commercial set-top boxes following the launch of the UK's free-to-view digital terrestrial service. The new DTTi5516 extends the concept by providing increased integration. Its software is compatible with the popular STi5516 and STV0360 devices from ST, and minimal software porting is required from existing designs.

The DTTi5516 comes in a low-cost 27x27mm PBGA package and is available now in production volumes for approximately US$13 in quantities of 10k units.

About the Technology

All digital television signals - whether for cable, satellite or terrestrial reception - are compressed before transmission using the MPEG-2 compression standard, and must be decompressed using an MPEG-2 decoder after reception. Compression enables several digital channels to be transmitted in the same bandwidth as is required to transmit a single analog channel. ST's OMEGA family - which includes the STi5516 - is a range of highly integrated devices, each of which includes an audio/video MPEG-2 decoder, an ST20 32-bit system CPU, display and graphics features, a digital video encoder and a variety of system peripherals. ST has for many years been the world's leading supplier of MPEG-2 chips.

About STMicroelectronics

STMicroelectronics is a global leader in developing and delivering semiconductor solutions across the spectrum of microelectronics applications. An unrivalled combination of silicon and system expertise, manufacturing strength, Intellectual Property (IP) portfolio and strategic partners positions the Company at the forefront of System-on-Chip (SoC) technology and its products play a key role in enabling today's convergence markets. The Company's shares are traded on the New York Stock Exchange, on Euronext Paris and on the Milan Stock Exchange. In 2003, the Company's net revenues were $7.24 billion and net earnings were $253 million. Further information on ST can be found at www.st.com.

1 InStat/MDR - MPEG Video IC Market: Larger than Ever - June 2003 (Report number IN030573MI)

More from Material Processing