Integrated Circuit provides thermal management.
Press Release Summary: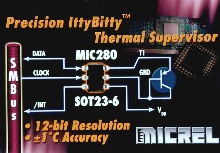 Miniature MIC280 two-zone thermal supervisor IC uses embedded thermal diodes for remote temperature measurement. It has 6 independent thresholds, I2C/SMBus compatibility, and programmable interrupt output. Available in 6-pin SOT23 packaging, MIC280 includes A-D converter, signal processing front-end, and one-wire diode interface. Fault queues and programmable digital filters provide noise immunity. Operating power supply current is 3 mA.
---
Original Press Release:
World's Smallest CPU Thermal Superviser Enhances System Accuracy and Reliability

SAN JOSE, Calif. - (November 30, 2001) - Micrel Semiconductor has developed a highly accurate, miniature two-zone thermal supervisor IC for thermal management using embedded thermal diodes such as those found in CPUs from Intel® and Advanced Micro Devices®, Xilinx® VIRTEX FPGAs, and other high performance devices. Micrel Semiconductor (NASDAQ: MCRL) is an industry leader in the design and manufacture of integrated circuits for the analog, power management, and high speed communications markets.

The MIC280 is part of a growing family of system and thermal management products from Micrel. Available in 6-pin SOT23 packaging, the MIC280 features highly accurate remote temperature measurement, six independent thresholds, 12C/SMBus compatibility, a programmable interrupt output, and numerous features to enhance ease of use and system reliability.

"The main goals in developing the MIC280 were to offer a thermal supervisor with superior real-world accuracy, high reliability, increased programmer friendliness, a smaller footprint and lower cost." said Jim Judkins, Product Marketing Manager. "The MIC280 fits into about one-fourth the space of legacy thermal supervisor ICs and offers far more features and performance."

"In many applications such as portable computing and telecom/datacom racks, the thermal envelope is very tight." Judkins continued. "This has fueled a drive toward more accurate thermal supervisors and led vendors to increase resolution and accuracy specifications. Specified accuracy on the datasheet can be very misleading, however."

Judkins explained further. "Users quickly learn that electrical noise from a system's high-performance digital circuits overwhelms everything else and destroys the accuracy they thought they had paid for. Micrel's proprietary A-D converter, signal processing front-end, and 'one-wire' diode interface give the MIC280 markedly superior noise performance in both laboratory and real-world testing. This translates directly into higher system accuracy."

Fault queues, programmable digital filters, further enhance performance in noisy environments. Locking of critical functions, a serial bus timeout, reporting of diode faults, and independent over-temperature alarms enhance system reliability. Software ease-of-use features include the SMBus Alert Response Address protocol, programmable resolution, mask and status bits for all interrupt sources, S/W reset, and ID registers.

The MIC280's operating power supply current is a miserly 3 milliAmps, and the quiescent current in shutdown mode is only 5 microAmps. Eight different factory- programmed slave address options are available. In thousand-piece quantities, the MIC280 in 6-pin SOT23 packaging is priced at $1.34 each. Samples are from stock and an evaluation board is available.

Summary of Features:
* Measures Local and Remote Temperature
* Programmable Resolution Up To 12-Bits for remote zone
* +/- 1deg C Accuracy from +60 deg C to +100 deg C, remote zone
* Superior noise immunity for high system accuracy
* 2-Wire 12C/SMBus Compatible Serial Interface
* Programmable Thermostatic Settings for Both Zones
* Open-Drain Interrupt Output Pin
* Fault Queues to Prevent Nuisance Tripping
* Interrupt Mask and Status Bits For All Interrupt Sources
* Software Locking of Critical Functions
* Detection and Reporting of Diode Faults
* Low Power Shutdown Mode
* 2.7V to 3.6V Power Supply Range
* Up to eight devices may share the same bus
* 6-Lead SOT23 Package

Micrel Semiconductor is a leading manufacturer of advanced, high-performance communications, clock management, mixed signal, analog and power ICs. These products include devices for fiber-optic telecommunications and networking, cellular telephones, servers, portable computer systems, computer peripherals, process control systems, consumer electronics and power supplies.

More from Waste Management & Waste Handling Equipment