Integrated Circuit offers single-chip PCI connectivity.
Press Release Summary: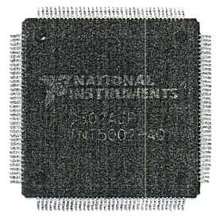 Model TNT5002 Application-Specific Integrated Circuit (ASIC) adds GPIB connectivity to stand-alone instruments based on PCI-bus interface. Chip includes 3.3 V PCI core, supports both 3.3 and 5 V signaling, and is fully compliant with revision 2.2 of PCI local bus specification. Instrument manufacturers can use TNT5002 with NI-Device software to develop GPIB-based instruments and devices.
---
Original Press Release:
National Instruments GPIB ASIC Offers Single-Chip PCI Connectivity for Instruments

AUSTIN, Texas - April 8, 2003 - Instrument manufacturers now can use the single-chip National Instruments (Nasdaq: NATI) TNT5002 ASIC to add GPIB connectivity to stand-alone instruments based on the PCI bus interface.

By packing GPIB and PCI connectivity as well as GPIB transceivers into one chip, the NI TNT5002 helps instrument manufacturers simplify instrument design for faster time to market. The one-chip design takes up less room on a circuit board than the traditional three or four-chip solution, and therefore makes it easier and less expensive to manufacture the instrument. The chip features a 3.3 V PCI core, supports both 3.3 V and 5 V signaling, and is fully compliant with revision 2.2 of the PCI local bus specification.

Instrument manufacturers can use the NI TNT5002 with NI-Device software to develop GPIB-based instruments and devices. NI-Device delivers a powerful application programming interface that instrument manufacturers can use to create bus-independent firmware for their ANSI/IEEE Standard 488.2-1992 instruments and devices.

About National Instruments

National Instruments (http://ni.com) is a technology pioneer and leader in virtual instrumentation - a revolutionary concept that has changed the way engineers and scientists approach measurement and automation. Leveraging the PC and its related technologies, virtual instrumentation increases productivity and lowers costs for customers worldwide through easy-to-integrate software, such as the NI LabVIEW graphical development environment, and modular hardware, such as PXI modules for data acquisition, instrument control and machine vision. Headquartered in Austin, Texas, NI has more than 3,000 employees and direct operations in 40 countries. In 2002, the company sold products to more than 25,000 different companies in more than 80 countries around the world. For the past four consecutive years, FORTUNE magazine has named NI one of the 100 best companies to work for in America. Readers may obtain investment information from the company's investor relations department at (512) 683-5090, by sending e-mail to nati@ni.com or on the Web at ni.com/nati.

Pricing and Contact Information

TNT5002 GPIB Chip Kit (includes 24 chips)

Priced from $600: E975: Y65,000

Web: sine.ni.com/apps/we/nioc.vp?cid= 12043&lang=US

11500 N Mopac Expwy. Austin, Texas 78759-3504

Tel: (800) 258-7022, Fax: (512) 6S3-9300

E-mail: info@ni.com
More from Fluid & Gas Flow Equipment