Integrated Circuit accesses 2 serial or parallel ports.
Press Release Summary: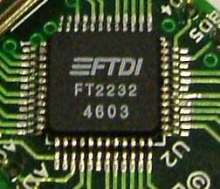 Model FT2232C dual-port USB-to-serial/parallel I/O IC is based on USB UART/FIFO FT232BM (USB-serial) and FT245BM (USB-parallel). Each of the dual ports configure independently in several different modes. Full modem hardware and software handshaking is offered in serial mode, with Automatic Transmit Enable control for RS485 applications. FTDI protocol allows galvanically isolated designs to communicate synchronously with FT2232C, using 2 dual optoisolators.
---
Original Press Release:

FT2232C Dual USB UART/ FIFO


- now USB-to-two-ports with one ic!

Fairport, New York. FT2232C is a new dual-port USB-to-serial/parallel I/O i.c. FT2232C is the 3rd generation device based on FTDI's popular USB UART / FIFO ic's FT232BM (USB-serial) and FT245BM (USB-parallel). In effect FT2232C = (2 x FT232BM) OR (2 x FT245BM) OR (FT232BM + FT245BM) in one ic. Each of the dual ports can be independently configured in several different modes. As well as the UART interface, FIFO and Bit-Bang I/O modes can be selected. Full modem hardware and software handshaking is offered in the serial mode, with Automatic Transmit Enable control for RS485 applications.

FT2232C is the ideal choice when you want two serial or parallel ports accessible - and optionally powered - from USB. Designers wanting to make USB devices with minimal development and cost have flocked to FTDI's products as simple to use and having no-problem royalty-free drivers which are supplied at no charge for Windows(TM) 98/ME/2000/XP. Additionally, a new proprietary FTDI protocol allows galvanically isolated designs to communicate synchronously with FT2232C using just 4 wires (i.e. two dual optoisolators). Other significant improvements include the Multi Protocol Synchronous Serial Engine (MPSSE) interface option which allows FT2232C to do JTAG programming/reprogramming of FPGA's over USB in a fraction of a second (1 MB/s). USB to SPI bus interfacing is also possible using the MPSSE. Another mode makes the FT2232C emulate an 8048/8051 MCU bus, allowing peripherals for these MCU's families to be easily interfaced to USB.

FT2232C will be available from Feb 2004 from $5.60 (1000) from FTDI's USA distributors: Saelig Co. Inc. (585-425-3753; -3835fax; info@saelig.com; www.saelig.com). Quick-start evaluation modules will also be available then.

Further details: Alan Lowne. 585 425-3753 o fax -3835
Saelig Company Inc. 1 Cabernet Circle, Fairport NY 14450
Or see www.saelig.com/news.htm

More from Packaging Products & Equipment