Integrated Brushless Servo Motor comes in 400 W version.
Press Release Summary: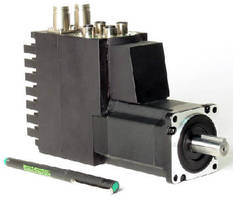 Offering 1.3 Nm up to 3,000 rpm for medium power range applications, modular MAC400 integrates driver, controller, encoder, and Hall sensor in splash-proof housing. It accepts operating commands from PC/PLC via RS232/422/485 as well as pulse/direction or quadrature inputs for electronic gearing. Along with A+B encoder output and 2-channel power dump circuit, features include velocity and torque control, positioning via digital interface, and software-controlled end-of-travel stops.
---
Original Press Release:

JVL MAC Motors - Now in 400W Version



JVL now introduces a MAC400 integrated motor for the medium power range

In recent years, integrated brushless servo motors from JVL have achieved a very high reputation throughout the world for their ingenious design. The existing range of 50 to 141W and 800W motors has now been supplemented with the introduction of a mid-range 400W model offering 1.3 Nm up to 3000rpm and shortly up to 1200W for highly dynamic applications.

All of these motors are small, compact, and easy to install and set up. The driver, controller, encoder and Hall sensor are all integrated within the motor in a robust, splash-proof housing. The basic motors offer the following standard features:

oOperating commands from PC/PLC via RS232/422/485
oPulse/Direction or quadrature inputs for electronic gearing
oA+B encoder output
oVelocity and torque control, either controlled digitally or via ±12bit, ±10V inputs
oPositioning via digital interface
oSoftware-controlled end-of-travel stops
oSelection of acceleration, maximum velocity, torque, etc.
o6th-order servo filter
oSine commutation with 2048 PPR encoder. (8196 pulses/revolution.)
oAlarm and "in position" outputs
o3 inputs and 3 outputs for High Speed start/stop and capture applications oInternal Power Dump

In addition, the JVL integrated MAC motors utilize a unique modular concept. Plug-in expansion modules adapt the motor to the application. You can choose connector type, e.g. D-Sub, cable glands or M12 connectors, and you can freely choose between Profibus, DeviceNet, CANopen or nano-PLC control. High-speed and wireless modules further add to the possibilities. This means MAC motors provide you with opportunities unmatched by any other motor on the market. Also equally important, you only pay for what you need. Moreover, if the feature you require is not available, we offer to develop your own customised module.

The new MAC400 provides all of the same features as the larger MAC800 model and in addition offers:

oAbsolute multiturn encoder (Q2 2009)
oPrepared for PowerLink; EtherCAT; Ethernet/IP; ProfiNet and SERCOS
oEven lower cost due to newest technology and production techniques
oImproved 2-channel power dump circuit
o2 RS422 channels for encoder in/output and SSI encoder, etc.
o6 IO for capture of position; interrupt, counters, enable, timer and PLC functions
oHigh-speed serial interface
oPlugable power connectors
oNatural cooling, no fan

Among the many well-known advantages of using an integrated motor like the MAC motor, the following can be mentioned:

oSimple installation. No cables between motor and driver
oEMC safe. Switching noise remains within motor
oCompact. Does not take space in cabinet
o24VDC for control circuits
oOption for built-in brake
oAll MAC motors use the same expansion modules
oCE approved/MAC800 UL recognised, pending for MAC400
oBuilt-in 115/130VAC mains supply in MAC400 and MAC800
oLow price

The new MAC400 model has been developed because of customer requests for a mid-range solution in the highly successful MAC series. The MAC400 fully lives up to the strict requirements JVL put on all the MAC motors regarding performance, versatility and reliability.


More from Architectural & Civil Engineering Products