Integrated Actuators offer precise motion, minimal maintenance.
Press Release Summary: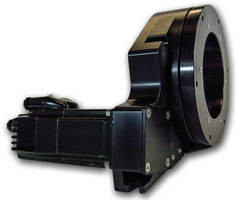 Shipped preassembled with selected SmartMotor™, fully integrated actuators are designed for precision and extended life in material handling, packaging, biomedical, and life sciences applications. ROT1 rotary actuator consists of belt-driven rotary stage and is available with 16–100 mm through holes. Belt-driven linear systems, PSC/M6S, have integrated guide rails and 150–3,000 mm strokes. Also available, HBOT1/TBOT1 use combination of belt actuators for 2-axis motion.
---
Original Press Release:

Moog Animatics Expands Actuator Line



Milpitas, CA, USA – Moog Animatics, a division of Moog Inc., has announced the release of three new high performance models to its actuator product line. These fully integrated actuators bring SmartMotor™ capabilities (ease of use, compactness and speed to market) to today's actuator applications.  They are designed for precise motion, long life and minimal maintenance.  Typical applications include material handling, packaging, biomedical and life sciences. See the full applications list at www.animatics.com



The new actuator lineup includes:



ROT1 rotary actuator is a belt-driven rotary stage with low backlash and high positional accuracy.  It is ideal for high speed indexing and precision rotation. Available with through holes from 16 to 100 mm.



PSC / M6S actuators are belt-driven linear systems with integrated guide rails, low backlash and high traverse speeds.  These actuators are ideal for moving light loads at speeds beyond the reach of ball screw actuators. Standard models are available with strokes from 150 to 3000 mm.



HBOT1 / TBOT1 belt systems use a combination of belt actuators for two-axis motion. The motors remain stationary, removing the traditional requirement for expensive cable tracks and associated high flex cabling. The SmartMotor™ simplifies this motion as it can interpret direct Cartesian coordinates and perform the transforms on the fly to create the motion and positioning required.



These Moog Animatics actuator models are shipped preassembled with the Moog Animatics SmartMotor™ selected by the customer.



"We are always looking for new ways to provide easy-to-use, highly compact motion solutions and cost-effective alternatives for our customers," says Doug Parentice, General Manager at Moog Animatics.  "Our actuator product line takes maximum advantage of the intelligent features of the SmartMotor™ and offers a flexible solution for numerous applications.  Our goal is to help our customers simplify their designs and get their products to market faster."



Moog Animatics is a global leader in integrated motion control and designs, manufactures and markets motion control products and systems. With over 28 years experience in the motion control industry, the company has U.S. operations and international offices in Germany and Japan and a network of Automation Solution Providers worldwide. Additional information about the company can be found at www.animatics.com



Moog Inc. (NYSE: MOG.A and MOG.B) is a worldwide designer, manufacturer, and integrator of precision control components and systems. Moog's high-performance systems control military and commercial aircraft, satellites and space vehicles, launch vehicles, missiles, automated industrial machinery, wind energy, marine and medical equipment.  Additional information about the company can be found at www.moog.com



Technical Contact:

Doug Parentice

+1/408-965-3320

dparentice@moog.animatics.com

More from Communication Systems & Equipment