Integral Piston Diaphragm suits hygienic applications.
Press Release Summary: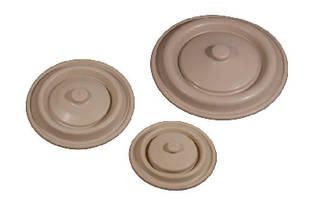 Constructed of food-grade Wil-Flex™ Santoprene™, Wilden 3 in. Full-Stroke Integral Piston Diaphragm is suited for use in Wilden's Saniflo™ FDA pumps, as well as Original™, Advanced™, and Advanced™ FIT series of air-operated double-diaphragm pumps. Integral piston is completely encapsulated within TPE material, so there is no outer piston that can trap fluid and particles. Operating from -40 to +225°F, diaphragm meets requirements of FDA CRF 21.177, EHEDG, and 3A.
---
Original Press Release:

Wilden® Introduces 76 mm (3") Full-Stroke Integral Piston Diaphragm Model



Grand Terrace, CA — Wilden®, part of PSG®, a Dover Company and a worldwide leader in air-operated double-diaphragm (AODD) pump technology, is pleased to announce the release of its 76-mm (3") size Full-Stroke Integral Piston Diaphragm (FSIPD). The new 76 mm (3") FSIPD is ideal for use in Wilden's Saniflo™ FDA pumps, as well as its Original™, Advanced™ and Advanced™ FIT series of air-operated double-diaphragm (AODD) pumps.



Wilden 76 mm (3") diaphragms are well suited for hygienic applications because they are constructed of food-grade Wil-Flex™ (Santoprene™), and unlike conventional diaphragms, the integral piston is completely encapsulated within the TPE material, meaning there is no outer piston that can trap fluid and particles. The result is a durable, highly cleanable diaphragm assembly that features a large integral piston and a full-stroke shaft that enables it to maintain the same stroke length as conventional Wilden diaphragms. The diaphragm's full-stroke design increases product displacement per stroke, which translates into improved suction lift, greater flow rates and higher efficiencies than experienced when using pumps that operate with reduced stroke diaphragms.



Features and benefits of the new Wilden 76 mm (3") FSIPD model include:



• Full-stroke, FDA-compliant Wil-Flex™, sanitary, integral-piston design

• No adhesive used in construction of FSIPD

• Elimination of outer piston abrasion – a leading cause of diaphragm failure

• Temperature range from -40°C to 107°C (-40°F to 225°F)

• Meets the requirements of FDA CRF 21.177, EHEDG and 3A



The 76 mm (3") model is the latest addition to Wilden's FSIPD family, which also includes 25 mm (1"), 38 mm (1.5") and 51 mm (2") sizes. All four FSIPD sizes are ideal for general industrial applications where downtime and maintenance are more costly than replacement parts. For the 76 mm (3") FSIPD, repair kit options are available that include two inner pistons, one shaft and two wedge-installation aids for convenience.



For more information on Wilden diaphragms, please visit www.WildenDiaphragms.com. Wilden is part of PSG®, for more information visit www.wildenpump.com.



About Wilden Pump and Engineering:

Jim Wilden revolutionized the pumping industry when he invented the air-operated double-diaphragm (AODD) pump in 1955. Since then, Wilden AODD pumps have proven to be trustworthy solutions to pumping applications in a wide variety of industries. Wilden pumps are part of PSG®, a Dover company, and manufactured in Grand Terrace, CA.



Sales Contact:

Carrie Halle

Director of Global Marketing

PSG® 

630-282-7338 or Carrie.Halle@psgdover.com