Integral Drive Spindle delivers 744 lb-ft from 0-392 rpm.
Press Release Summary: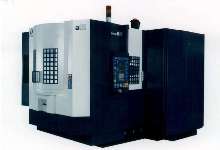 Featuring CAT 50-taper toolholder, high-torque spindle offers accel/decel ranges of 1.5 sec at 4,000 rpm or 4.3 sec at 8,000 rpm. It employs 50 hp from 2,000-5,000 rpm, making it suited for difficult cutting scenarios with hard metals such as stainless steel, titanium, nickel-based alloys, cast or ductile iron, and compacted graphite iron. Spindle also handles applications requiring significant amount of stopping, starting, and reversal.
---
Original Press Release:

New High-Torque Spindle from Makino


Most Powerful Integral Drive Spindle in The World

MASON, OH-September, 2004-Makino has developed a unique high-torque spindle that is the most powerful integral drive spindle on any machine in the world. The new spindle will initially be demonstrated on the Makino a81, the largest of the popular 1-Series machines, which provides unparalleled productivity and reliability, and helps customers reduce costs from their manufacturing operations.

This Makino technology will be introduced and on display at the 2004 International Manufacturing Technology Show (IMTS) at McCormick Place in Chicago, Illinois, September 8 through; 15. Visit the main Makino Booth #8400 in Hall A of the South Building.

Optimum Blend of Speed and Rigidity
The Makino integral drive spindle greatly outperforms all other spindles on the market due to the nature of its special design, which provides significantly higher torque at a low rpm. The proprietary design of the integral drive spindle combines the optimum blend of speed and superior rigidity necessary to take aggressive cuts.

Other high torque spindles utilize a geared-type head. Such design intrinsically causes a loss of significant power that further drops spindle efficiency, which can slow down the spindle performance and adversely affect cycle times.

The Makino integral drive, high-torque spindle has no corresponding loss of acceleration and deceleration. The acc/dec ranges from 1.5 seconds at 4,000 rpm or 4.3 seconds at 8,000 rpm.

The Makino high-torque, integral drive spindle has an available 744 foot pounds (1,009 Nm) of torque from zero to 392 rpm. To match that torque, the spindle employs 50 hp from 2,000 to 5,000 rpm. This duty rating and continuous output of the Makino spindle lends itself to difficult cutting scenarios and with tough and hard metals such as stainless steel, titanium, nickel-based alloys, cast or ductile iron and CGI (compacted graphite iron).

Long reach and large diameter boring operations require a great deal of torque, particularly at low rpm. For applications such as tapping, where a significant amount of spindle stopping, starting and reversal occurs, the Makino high-torque spindle is significantly faster and has less idle time.

The Makino high-torque, integral drive spindle employs a standard CAT 50-taper toolholder, with an HSK-A100 as optional.

Makino is a global provider of advanced machining technology and application support for the metalcutting and die/mold industries, dedicated to driving out more costs from your manufacturing operation than any other competitive machine tool manufacturer. Makino manufacturing and service centers are located in the United States, Japan, Germany, Singapore, Italy, France, Korea, Taiwan, Turkey, China, Mexico, Brazil and India, and are supported by a worldwide distributor network. For more information call 1.800.552.3288, or visit Makino on the Web at www.makino.com.

More from Laboratory and Research Supplies and Equipment