Integra Introduces New 50-Ohm Matched Power Devices for Pulsed Radar Applications
Press Release Summary: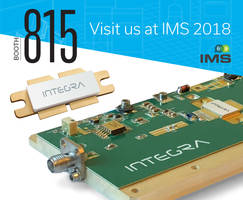 Integra Power Devices include RF power Module (IGNP0912L1KW) and GaN/SiC transistors (IGT5259L50 and IGN1214L500B). IGNP0912L1KW module is operated over instantaneous bandwidth of 0.960-1.215 GHz and delivers 1000 W of minimum peak pulse power with 2.5 ms pulse width and 20% duty cycle. IGN1214L500B transistor is suitable for L-band radar applications and provides 500 W of power at 1.2-1.4 GHz, drain bias of 50V and 15.5 dB gain whereas the IGT5259L50 transistor supplies a power of 50 W at 5-6 GHz.
---
Original Press Release:
Integra to Launch New Brand ID and Several RF Power Devices at IMS 2018 Philadelphia
EL SEGUNDO, California (USA) – April 25, 2018 – Integra Technologies, a leading designer and supplier of high-power RF Power Transistors and RF Power Modules, is excited to be launching their new brand identity and several new devices at this year's International Microwave Symposium in Philadelphia, PA. They will be at Booth 815.
In addition to announcing their new brand identity created by industry experts, Strand Marketing, Integra will be reviewing an exciting array of new 50-Ohm (fully matched) RF Power Transistors and integrated RF Power Modules (aka "Pallets") for pulsed radar applications. IGNP0912L1KW is a 50-Ohm GaN/SiC, RF Power Module for LBand avionics systems operating over the instantaneous bandwidth of 0.960 - 1.215 GHz. This integrated amplifier module supplies a minimum of 1000W of peak pulse power, under the conditions of 2.5ms pulse width, and 20% duty cycle, while offering excellent thermal stability. IGT5259L50 is a 50-Ohm GaN/SiC transistor, offering 50W at 5-6 GHz for pulsed C-band radar applications. IGN1214L500B is a high-power GaN/SiC HEMT transistor that supplies 500W at 1.2 - 1.4 GHz, and offers 50V drain bias, 15.5dB gain, and 65% efficiency. This transistor is designed for long-pulse L-band radar applications.
Along with these products, Integra will be discussing upcoming products to be released, including RF Power Modules up to 2000W, X-band transistors, and a line of devices with advanced thermal control. "We're thrilled to mark IMS 2018 as Integra's break out moment in providing the industry's most advanced standard and semi-custom RF Power Devices," says Integra's CEO Suja Ramnath. "Our R&D team has been working diligently to push the boundaries of power and efficiency and we invite all radar system designers to partner up with us and 'Find Your Power'."
Stop by and visit Integra at booth #815. Talk with their industry leading experts and learn which high-power RF devices are best for your radar's high amplifier chain.
To learn more, and to download datasheets, visit www.integratech.com.
About Integra Technologies, Inc. | www.integratech.com
Integra is a leading designer, manufacturer, innovator, and global supplier of high-power RF and microwave transistors and power amplifiers. They have a demonstrable heritage as a provider of dependable standard and custom solutions for low to high volume radar, avionics, defense, communications, EW, and ISM programs. The technologies that Integra fabricates with include GaN/SiC HEMT, Si-LDMOS, Si-VDMOS, and Si-Bipolar semiconductor approaches proven in their own fab and with redundant partners.
About IMS 2018 | www.ims2018.org
Beginning June 12th through the 14th, industry leading companies will be exhibiting state-of-the-art materials, devices, components, subsystems, as well as design, simulation software and test/measurement equipment. This exhibition will draw more than 800 industry leaders, showcasing the latest developments in microwave devices and products, explaining the technology behind their devices and highlighting their applications. IMS 2018 will provide technical programs, networking opportunities and social events, allowing attendees to interact with exhibitors and members of the industry
Agency Contact: Angela McGrath, amcgrath@strandmarketing.com, 978-463-0780
Company Contact: Sales, sales@integratech.com, 310-606-0855