Electrical / Electronic Probes
Insulation Piercing Probe tests in hard-to-reach locations.
Press Release Summary: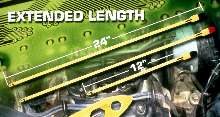 Offered in 12 and 24 in. lengths, Model 6580 has heat/burn-resistant Teflon® tubing. Suitable for measurement applications up to 60 Vdc, test probe incorporates spring-loaded wire locator clamp and screw-in point. Piercing probe allows user to provide pressure needed to penetrate hard or soft insulation on wire from 0.060-0.200 in. dia. Hardened steel piercing point is removable for sharpening and rotating banana jack prevents test lead from twisting.
---
Original Press Release:

Pomona Electronics New Extended Length Insulation Piercing Test Probes Feature Assured Contact Integrity and Burn Resistance for Testing in Near-Impossible Locations



EVERETT, Wash., Oct. 28, 2002 - Pomona Electronics has introduced the Extended Length Insulation Piercing Probe, Model 6580, offering a reach up to 24-inches and heat resistant Teflon® tubing capable of withstanding contact with very hot surfaces without burning. The new test probes are ideally suited for a variety of field applications including automotive test and diagnostics, electronic and industrial test, and other measurement applications up to 60 VDC in hard-to-reach places. Access to wiring or cables in congested engine compartments, under-dash wiring panels, or central office systems and machinery controls is made significantly easier.

Offered in 12 and 24-inch lengths, these probes provide users a means of testing in otherwise inaccessible locations. With its extended reach capabilities, the 6580 Test Probe eliminates the need for disassembly to reach a test point, saving valuable diagnostic time. And superior heat resistance allows the probes to contact hot engine parts or machinery surfaces without damage.

Designed with a spring-loaded wire locator clamp and screw-in point, the piercing probe allows the user to provide the exact pressure needed to penetrate hard or soft insulation on a wide range of wire types and sizes. This enables the user to control the piercing action more effectively, limiting wire damage and making contact easily, even through hard insulation. Wire contact is made as the screw-in barrel drives the sharp piercing point through the insulation to penetrate to the conductor. The single piercing tip minimizes damage to wire to one tiny hole, which can be easily patched. The probe is designed to work with wires from 0.060-inch diameter (22AWG) to 0.200-inch diameter (10AWG), including access to individual wires in large bundles.

The new test probes are compatible with all banana plug test leads including safety-shrouded DMM leads, allowing secure connections to nearly any test system. Unlike other probes that do not allow for repair of damaged tips and must be completely replaced, the Model 6580's hardened steel piercing point is easily removed for sharpening and re-assembly for extended product life.

The probes also feature a rotating banana jack that prevents the test lead from twisting and allows the user to keep the meter in the circuit while the wire is pierced, providing immediate confirmation that contact with the conductor has been made. Designed with a retractable pin and a wire-centering mechanism that securely cradles the wire regardless of size, the probes attach easily onto plastic, Teflon or silicone insulated wires using a spring-loaded double-V clamp. Once the probe has been attached to the wire, the test lead can be removed from the probe for testing at another location. Red and black color-coded barrels provide fast circuit identification, and the bright yellow body allows for easy location in low light situations

Available immediately from an authorized Pomona distributor, the 12-inch reach probe (Pomona 6580-12-0 in black and 6580-12-2 in red) is priced at $48.00 U.S. list. The 24-inch reach probe (Pomona 6580-24-0 in black and 6580-24-2 in red) is priced at $68 U.S. list. Choose either red or black.

Technical and product information is available 24 hours a day, seven days a week, on-line At www.pomonaelectronics.com or via the "PomonaACCESS" Fax-On-Demand program at (800) 444-6785, (use document number 90986).

Pomona Electronics
Pomona Electronics, a division of Fluke Corporation, offers the broadest line of test accessories in the world for applications ranging from test labs to field service and plant maintenance, repair and operation and are available through the company's global distribution network. The Pomona line includes banana plugs, coaxial cables, oscilloscope and DMM probe kits and accessories, IC test clips, boxes, connectors and test leads. For more than 50 years, the company's innovative design and high quality manufacturing have provided engineers and technicians with tools that keep pace with constantly changing technologies, and meet both UL and IEC1010 safety standards.

More from Sensors, Monitors & Transducers