Insulation Piercing Clips facilitate access to wiring.
Press Release Summary: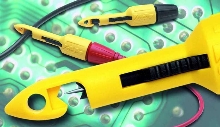 Designed to simplify transportation diagnostics, Insulation Piercing Clip Sets are offered in 3-24 in. sizes for connecting to sensor leads, controls leads, and circuit wires in congested or hard-to-reach places. Clips, available attached to test leads, attached to probe tip, and in test clip sets, also come in pre-configured accessory kit for automotive applications. Products are suited for automotive, marine, and aviation applications.
---
Original Press Release:

Pomona Electronics Piercing Clips Simplify Transportation Diagnostics


Insulation Piercing Clips provide access to otherwise inaccessible wiring

EVERETT, Wash.,- Pomona Electronics, the leading manufacturer of cable assemblies, connectors, and test accessories, announces its Insulation Piercing Clip Sets, offering technicians a wide range of clips designed specifically for automotive service environments.

Pomona's piercing clips, which come in sizes from three-inches to 24-inches, are designed for use with automotive, marine, aviation, or control circuits to give technicians access to wiring and cables in congested engine compartments, under-dash wiring harnesses, and other hard-to-reach places.

"Pomona's 12- and 24-inch piercing clips are perfect for reaching various wires that are poorly located in the engine compartment," said Pomona Product Manager Dwight Hyland. "The test clips easily connect to sensor leads, controls leads, and circuit wires, and the specially designed tips easily penetrate the insulation to access the wire inside."

Pomona insulation piercing clips are available from most general electronics distributors in 12-inch (#6580-12) and 24-inch (#6580-24) models as well as attached to test leads (#6405), attached to probe tip (#6413), and in test clip sets (#5913). Insulation piercing clips are also available in a pre-configured accessory kit designed specifically for automotive applications (#5903) as well as other configurations.

Visit www.pomonaelectronics.com for more information or to request a catalog.

Pomona Electronics

Pomona Electronics has a broad line of accessories for applications ranging from test labs to field service, maintenance, manufacturing, and broadcast/audio digital signal transmission. The Pomona line includes banana plugs, coaxial cables, oscilloscope and DMM probe kits and accessories, IC test clips, boxes, connectors, test leads, and XLR and 75-ohm cable assembly products. For more than 50 years, the company's innovative design and high quality manufacturing have provided engineers and technicians with tools that keep pace with constantly changing technologies, and meet both UL and IEC1010 safety standards. Pomona products are available through the company's global distribution network.

To learn more about Pomona Electronics products, visit www.pomonaelectronics.com.