Insulated Tools work with metric and standard applications.
Press Release Summary: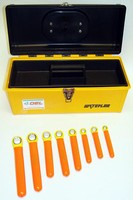 Tested to 10,000 Vac and rated for 1,000 Vac max exposure, Insulated Tool series promotes safety when working around electricity. OEL COMBINATION TOOL has wall drive profile that distributes torque load to fastener through flats, optimizing area of force application as well as lowering possibility of distortion to nut or bolt head. Capable of exceeding tightening torques specified in DIN standard by 70-100%, each socket or spanner fits Metric and Inch series fastener.
---
Original Press Release:

The New OEL "COMBINATION" Insulated Tools



One set of tools does the job of both metric and standard saving installers time and money!

With new safety mandates being placed on all companies doing work with and around electricity, and safety material cost rising through the roof, OEL has produced a unique Insulated Tool series that does both Metric and Standard applications. OEL is a leading manufacturer of double insulated tools that are tested to10,000VAC and rated for 1000VAC Maximum Exposure allowing maximum safety when working around electricity. Double-insulated 1000V safety tools that are designed and engineered for maximum safety between the worker and the danger of the job.

The OEL COMBINATION TOOL wall drive profile was designed to provide a greater area of force application, compared with that applied by conventional tools. The tool, in distributing the torque load to the fastener through the flats, not only achieves a greater force, but also lowers the possibility of distortion to the nut or bolt head. Having a thin wall is an advantage in every socket because with spanners and sockets the force is absorbed where the wall has it's greatest strength. The sockets are capable of exceeding the tightening torques specified in the DIN standard by 70 to 100%, depending on the socket size.

Because with the OEL COMBINATION insulated tool system each socket or spanner fits both a Metric and inch series fastener, fewer tools are required to perform a range of operations saving the installer $ costs of only buying one set of tools instead of two.

One of the most important features of the OEL wall drive principle is applying pressure to flats of a nut or bolt thus making it virtually impossible to damage a fastener in a work situation.

Fewer tools means, less cost, less inventory, and less weight in an operator's tool box. As an added bonus the OEL wall drive principle of applying pressure to flats of a nut or bolt makes it virtually impossible to damage a fastener in a work situation. Now installers can get more use out of fewer tools and save money too. One set of tools does the job of both metric and standard, plus works on damaged fasteners with a no slip hold. No slipping means greater safety. No more cut hands, banged up knuckles and elbows due to wrench slippage. You'll carry fewer tools, have a lighter tool box, and you'll have a much easier time finding exactly the tool you need. Eliminate switching back and forth from standard to metric. One tool set is all you'll need! Save needless time spent searching through tools.

Each insulated tool has a Lifetime Replacement Warranty so if one of the tools should ever fail, OEL will replace it with a new one. Every insulated hand tool OEL manufactures is rated for exposure up to 1000VAC and dielectrically tested at 10,000VAC. These tools meet or exceed ASTM F1505-01 and IEC 900 Standards for Insulated Hand Tools. These tools are necessary for compliance with OSHA 1910.333 (c)(2), and NFPA 70E 2004. The insulating material used is impact resistant and flame retardant. Two-color insulation makes inspection easier which adds to the overall safety. If the yellow under layer is showing, the tool may no longer be insulated properly and should be considered for replacement and removed from service. OEL is capable of customizing and supplying any tools that require protection up to 1,000 V. OEL will also customize sets to meet your unique tool needs.

OEL Worldwide Industries
P.O. BOX 445 PALMER LAKE, CO 80133
800 818-2244 719 559-0955 FX
www.oelsales.com

More from Architectural & Civil Engineering Products