Insulated Pallet Packaging keeps contents at 15 to 30°C.
Press Release Summary: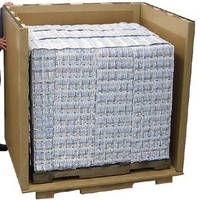 Tested against summer and winter profiles, Pallet Transporter CRT maintains 15 to 30°C for up to 120 hrs. Insulated panels promote performance, and only 1 person is required for assembly. Offered with reusable or single-use capability, product comes with standard wood pallet or reusable plastic pallet. Other options include corrugated outer covering and reusable plastic outer covering. Up to 4 pallet transporters can fit onto one LD7 or cookie sheet air pallet.
---
Original Press Release:

Cryopak Announces the Release of Their New Pallet Transporter CRT



Edison, NJ -- www.Cryopak.com/ -- Cryopak, leader in temperature controlled packaging, has recently released their new Pallet Transporter CRT. Cryopak's Pallet Transporter CRT is tested against robust summer and winter profiles, and is designed to maintain 15 degrees C - 30 degrees C for up to 120 hours.

"They have lightweight insulated panels that offer superior performance to traditional polyurethane," Anthony Alleva, Cryopak's Technical Services Manager said. "They are also designed for easy assembly - only 1 person needed! It also offers a re-usable or single use capability and come with a standard wood pallet or tough re-usable plastic pallet."

Other options include corrugated outer covering; reusable plastic outer covering.

The Pallet Transporter CRT is an addition to Cryopak's Repak Insulated Pallet Shipper(TM) series that is designed to hold shipments at 2 degrees C -8 degrees C. Our Repak 24 provides a collapsible, re-usable shipper that maintains a 2 degrees C -8 degrees C temperature range for up to 24 hours. We also have Repak's that can hold 2 degrees C -8 degrees C for 72 hours, 96 hours and 120 hours.

"The Cryopak Pallet Transporter is designed to optimize space used" Alleva said. "Up to four of our pallet transporters can fit on to a single LD7 or cookie sheet air pallet".

The new Pallet Transporter CRT is designed with reusable Phase 22(TM) refrigerant packs that are engineered to maintain payload at room temperature. These refrigerants are per-conditioned at room temperature.

About The TCP Family of Companies:
The TCP Family of Companies is a complete packaging integrity solutions provider services the lifescience industries. The TCP Family consists of Cryopak, the leading manufacturer of cold chain related products and DDL, the leader in package, product and material testing validation for medical device and biopharmaceutical industries. The TCP family handles your packaging needs with one paramount goal: getting your product to market on time while maintaining the integrity of your products.

Cryopak
a TCP Reliable Company
551 Raritan Center Parkway
Edison, NJ 08837

More from Materials