Instrument functions as TV, spectrum, and network analyzer.
Press Release Summary: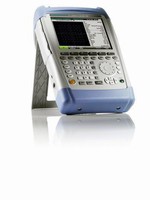 R&S ETH portable TV analyzer allows network operators to perform coverage measurements in field, at public sites, or in buildings. Supporting DVB-T and DVB-H standards, it comes in 4 models with frequency range of 100 kHz to 3.6 GHz or up to 8 GHz, with or without tracking generator. Features include MER value of greater than 40 dB, high-contrast color display, and preselector and preamplifier that raise dynamic range and sensitivity so weak signals can be detected via antenna.
---
Original Press Release:

Portable TV Analyzer from Rohde & Schwarz Targets Installation and Servicing of Low-Power Transmitters



Munich, September 25, 2008 - The new R&S ETH portable TV analyzer from Rohde & Schwarz offers the functionality of a TV analyzer, spectrum analyzer and network analyzer in a single box. Compact and lightweight, the R&S ETH can easily be transported over long distances, which makes it ideal for tasks such as installing and servicing low-power transmitters in remote locations. Moreover, the instrument provides a quick way for network operators to perform coverage measurements in the field, at public sites or in buildings. The R&S ETH supports the DVB-T and DVB-H standards. It is available in four models with a frequency range of 100 kHz to 3.6 GHz or up to 8 GHz, either with or without a tracking generator.

The latest realtime TV analyzer from Rohde & Schwarz offers high-end quality at an affordable price. Since the analyzer provides an MER value greater than 40 dB, measurements of signal quality can be performed directly on the transmitter. The integrated spectrum and network analyzer transform the R&S ETH into a single instrument that performs all measurements. This makes daily checks of transmitters at different locations an easy task. Moreover, the analyzer's high-contrast color display and its ability to run up to 4.5 hours on battery power make it ideal for outdoor use.

The TV analyzer features a built-in preselector and a preamplifier. This raises dynamic range and sensitivity so that even weak signals can be detected via antenna. Customers can use either their own antenna or one from Rohde & Schwarz.

The demodulator developed by Rohde & Schwarz for DVB-T/-H is based on FPGA technology. Since the FPGA is the key component, changes in the standard can easily be integrated via software - as can additional TV standards. This makes the R&S ETH a particularly safe investment because no additional hardware is required to maintain state-of-the-art functionality. The instrument's use of identical signal paths for demodulation and signal analysis ensures consistent measurement results.

The R&S ETH handheld TV analyzer is the perfect tool for service technicians in the field, for regular functional checks of gap-filler transmitters and for measuring transmitter coverage in DVB-T/-H networks. The analyzer will be available from Rohde & Schwarz in December 2008.

Rohde & Schwarz

Rohde & Schwarz is an independent group of companies specializing in electronics. It is a leading supplier of solutions in the fields of test and measurement, broadcasting, radio monitoring and radio location, as well as secure communications. Established 75 years ago, Rohde & Schwarz has a global presence and a dedicated service network in over 70 countries. It has approx. 7200 employees and achieved a net revenue of 1.4 billion (US$ 1.9 billion) in fiscal year 2006/2007 (July 2006 to June 2007). Company headquarters are in Munich, Germany.

Contacts for readers:

Customer Support Europe:
Phone: +49 89 4129 13774,
Fax: +49 89 4129 63778

E-mail: customersupport@rohde-schwarz.com

Customer Support Americas:
Phone: +1 888 837 8772,
From outside the US: +1 410 910 7988

E-mail: customer.support@rsa.rohde-schwarz.com

Customer Support Asia:
Phone: +65 65130 488,
Fax: +65 68461 090
E-mail: customersupport.asia@rohde-schwarz.com

More from Machinery & Machining Tools