Instant Adhesive resists shock and vibration.
Press Release Summary: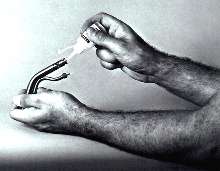 MB297FL single component cyanoacrylate adhesive has operating temperature range of -65 to +185°F and bonds to metals, ceramics, plastics, and elastomers. It adheres to assemblies whose substrates have different expansion coefficients. Cured adhesive has excellent optical clarity and is resistant to many chemicals. It is available in 1/3 oz, 1 oz, and 1 lb bottles.
---
Original Press Release:

New Toughened "Instant Cure" Adhesive


Master Bond Inc, Hackensack, NJ is pleased to announce a new toughened "instant cure" adhesive called MB297FL. This adhesive is a single component cyanoacrylate and offers superior resistance to shock and vibration. Unlike conventional cyanoacrylates which cure very rigid, MB297FL features enhanced toughness and impact strength. At the same time MB297FL retains all the advantageous properties of "instant curing" adhesives.

Master Bond MB297FL has excellent bond strength to metals, ceramics, plastics and elastomers. Its greater toughness assures superior adhesion to assemblies whose substrates have different expansion coefficients e.g. metals and elastomers, plastics and ceramics. MB297FL bonds almost instantaneously and cures are moisture activated. It has a wide service operating temperature range of -65°F to +185°F. The cured product has excellent optical clarity and is resistant to many chemicals.

Master Bond MB297FL is available in 1/3 ounce, 1 ounce and 1 lb bottles.

For further information, please contact:
James Brenner
Marketing Manager

154 HOBART STREET o HACKENSACK, NEW JERSEY 07601-3922 o TEL: 201-343-8983 o FAX: 201-343-2132

Visit our WEBSITE at http:/www.masterbond.com Or E-Mail us at Main@Masterbond.com

More from Adhesives & Sealants