Inspection System verifies glue dot placement on PCBs.
Press Release Summary: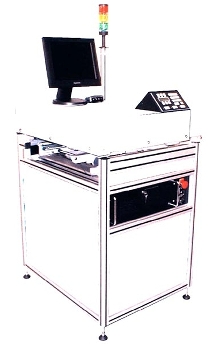 GlueScan(TM) AOI uses Windows interface integrated with automatic table and image-processing unit to provide 100% inspection of adhesive placement on PCBs after stenciling, dispensing, or stamping. It is available in 2 versions: in-line conveyor module where boards are shuttled in, automatically aligned, and checked for accuracy with Pass or Fail inspection, or as off-line desktop module where boards are entered into system manually.
---
Original Press Release:
GlueScan(TM) AOI Adhesive Dot Inspection System

GlueScan uses a Windows interface integrated with an automatic table and image-processing unit to provide 100% inspection of adhesive placement on PCBs after stenciling, dispensing or stamping. By ensuring accurate glue deposition before entering the production placement environment, GlueScan can increase product yield and eliminate downtime, extensive rework and expensive equipment repairs due to missing or misprinted glue dots.

GlueScan is quickly programmed from a golden board in just a few minutes and able to automatically verify the absence / presence of all glue dots in seconds.

GlueScan is available as an in-line conveyor module where boards are shuttled in, automatically aligned and checked for accuracy with a Pass or Fail inspection or an off-line desktop module where boards are entered into the system manually. Both systems provides a simple, user-friendly and cost effective alternative to inaccurate and time-consuming manual inspection methods. www.smartsonic.com
Related