Inspection System offers application-specific configurations.
Press Release Summary: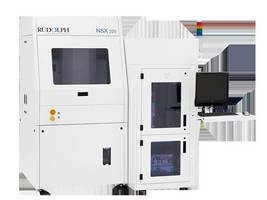 With Metrology suite, NSX® 320 Automated Macro Defect Inspection System offers wafer level packaging configuration, which measures film thickness, thin remaining silicon thickness, surface topography, copper pillar height, and solder bump height. Advanced wafer level packaging configuration (2.5D) adds measurement of wafer profile, total stack thickness, and thick/thin RST, while 3DIC configuration is capable of all measurements plus via depth, trench depth, bonded wafer TTV, and adhesive layers.
---
Original Press Release:

Rudolph Announces New Metrology Suite for Advanced Packaging



New NSX Metrology Series includes application-specific configurations to address unique metrology requirements for wafer level packaging, 2.5D and 3DIC



Flanders, New Jersey — Rudolph Technologies, Inc. (NASDAQ: RTEC), a leading provider of process characterization, photolithography equipment and software for the semiconductor, FPD, LED and solar industries,today released three new application-specific configurations of its industry-leading NSX® 320 Automated Macro Defect Inspection System. The suite includes specially-designed configurations for wafer level packaging, 2.5D (interposer) and 3DICs using through-silicon via (TSV) as interconnects. The first NSX 320 Metrology System for wafer level packaging shipped in June to a major outsourced assembly and test (OSAT) facility in Asia.



"These new application-specific configurations of our established NSX 320 System are designed to address the emerging need for fast, precise three-dimensional (3D) measurements in the rapidly growing advanced packaging market sector," said Rajiv Roy, vice president of business development and director of back-end marketing at Rudolph Technologies. "We have completed the integration of 3D measurement sensors, recently acquired from Tamar Technology, into the NSX System. Tamar's sensor technology is well recognized and widely used, and integrating it into the NSX 320 System adds critical capability required for enabling advanced packaging applications such as copper pillar bumping and TSV."



The NSX 320 wafer level packaging configurationis designed to measure film thickness (polymers, photoresist, glass), thin remaining silicon thickness (RST), surface topography, copper pillar height and solder bump height. The advanced wafer level packaging configuration adds measurements of the wafer profile (warp and bow), total stack thickness and thick/thin RST (bonded wafer before and after grind). The 3DIC configuration is capable of all the above measurements plus via depth, trench depth, bonded wafer TTV and adhesive layers.  



Roy stated, "3DIC device volume is forecasted to grow to $38.4B by 2017, according to Yole Développement. Rudolph is positioned to address the growth requirements for wafer level packaging, as well as 2.5D and other advanced packaging technologies, with industry-proven metrology toolsthat offer superior speed and measurement solutions."



For more information about Rudolph's NSX 320 Metrology Series, visit www.rudolphtech.com.



About Rudolph Technologies

Rudolph Technologies, Inc. is a worldwide leader in the design, development, manufacture and support of defect inspection, advanced packaging lithography, process control metrology, and data analysis systems and software used by semiconductor device manufacturers worldwide. Rudolph provides a full-fab solution through its families of proprietary products that provide critical yield-enhancing information, enabling microelectronic device manufacturers to drive down the costs and time to market of their products. The Company's expanding portfolio of equipment and software solutions is used in both the wafer processing and final manufacturing of ICs, and in adjacent markets such as FPD, LED and Solar. Headquartered in Flanders, New Jersey, Rudolph supports its customers with a worldwide sales and service organization. Additional information can be found on the Company's website at www.rudolphtech.com.



Contacts:



Trade Press:

Amy Pauling

952.259.1794

amy.pauling@rudolphtech.com

More from Fluid & Gas Flow Equipment