Inspection System monitors pipes and sewer systems.
Press Release Summary: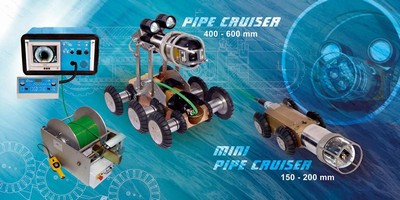 Able to inspect 6-47 in. dia pipes, PIPE CRUISER 150 trolley incorporates 200 W carrier, 6 multidirectional drive wheels, rotating zoom camera, and rear-mounted backwards-facing camera. Cable tension management system is equipped with .3 in. dia cable. Compatible with Pipe Cruiser 150 system, Mini Pipe Cruiser 100 inspects secondary pipes with 3-16 in. dia, and is available with axial or rotating head camera allowing entry into 10 in. dia branching junction chambers.
---
Original Press Release:

Pipe Cruiser: New Electronic Systems for Pipe Inspections and Monitoring



ECA HYTEC, specialist in robotics and video camera technology since 1981, is offering a complete range of equipment called PIPE CRUISER, designed for the video inspection and monitoring of sewerage systems. This innovative and modular range can adapt to the most difficult inspection and diagnostic conditions. It integrates some of the latest innovations, with digital transmission and real-time control of all its peripherals.

The PIPE CRUISER 150 trolley meets the requirements for video inspections of pipes with diameters of 6 to 47 in. Its 200-watt carrier has six multidirectional drive wheels, a rotating zoom camera, and a rear-mounted backwards-facing camera. The cable tension management system is equipped with a .3-in. diameter cable. This model includes a large number of optional peripherals such as a satellite camera, an inclinometer, a SIMCO module for continuous deflection measurement, a motorized pantograph, and dimensioning lasers.

The MINI PIPE CRUISER 100 trolley is designed for video inspection of secondary pipes with diameters of 3 to 16 in. The compact four-wheel drive trolley is available with an axial or rotating head camera. It can be introduced into 10-in. diameter branching junction chambers with the rotating camera, which also works in thrust mode for 3-in. diameters. This tractor has complete compatibility with the PIPE CRUISER 150 system.

The PIPE CRUISER and its innovative peripherals, like the wireless control consoles, can be configured for portability or integrated into a laboratory vehicle. The DTR65HRC rotating head camera, the same camera used with the PIPE CRUISER and MINI PIPE CRUISER, can also be used for borehole examination operations up to a depth of 1,600 ft.

When combined with the CANASOFT V7 software that allows editing of interactive reports on DVD, the PIPE CRUISER system becomes a competitive tool for the industry.

For further information, please contact:

ECA HYTEC
Jean-Michel Eloy
Marketing & Export Manager
501 rue de la Croix de Lavit
BP 4403
34197 Montpellier Cedex 5
FRANCE
Tel: +33 (0) 4 67 63 64 00
Fax: +33 (0) 4 67 52 14 88
E-Mail: sales@hytec.fr
Web: www.hytec.fr

or

FRENCH TECHNOLOGY PRESS OFFICE
205 North Michigan Avenue, Suite 3740
Chicago, IL 60601
Tel: (312) 327-5260
Fax: (312) 327-5261
E-mail: contact.ftpo@ubifrance.fr


More from Machinery & Machining Tools