Inspection System handles 200 and 300 mm wafers.
Press Release Summary: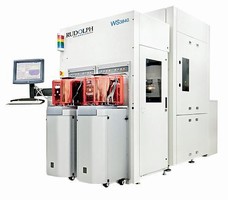 Model WS 3840(TM) combines laser triangulation technology that provides 3D measurements of bump height and coplanarity with TDI line scan camera that offers 2D image-based macro defect inspection for wafer surface and bump by measuring characteristics such as diameter, shape, and placement accuracy. Intelligent scheduling capabilities maximize handling throughput, and system imports and exports wafer maps in all major data formats to facilitate offline defect review.
---
Original Press Release:

Rudolph Announces New Wafer Scanner 3840 System for Post-Fab Inspection and 3D Bump Metrology



First unit in production following efficient integration of manufacturing operations

FLANDERS, NJ (May 15, 2008)-Rudolph Technologies, Inc. (NASDAQ: RTEC), a worldwide leader in process characterization solutions for the semiconductor manufacturing industry, announced today the release of the new WS 3840(TM), the latest addition to the Wafer Scanner(TM) product family for inspection and metrology of back-end semiconductor manufacturing processes, including bumping, probing, sawing and dicing. The first order for the WS 3840 has already been received and is scheduled for 3Q shipment.

Following its January announcement regarding the purchase of intellectual property and selected assets of RVSI Inspection LLC, Rudolph moved quickly to integrate the Wafer Scanner into its Inspection Business Unit operations based in Bloomington, Minnesota. "The Wafer Scanner is the industry standard for bump inspection," said Rajiv Roy, Rudolph's marketing director for back-end inspection systems. "Since January, we have shipped several WS3800 3D bumped Wafer Inspection Systems to satisfy existing orders. The first WS3840 System will be delivered to a major Asian foundry where it will be used to process advanced bump wafers."

The new WS 3840 integrates Rudolph's exclusive laser triangulation technology for 3D bump metrology and sensitive 2D image-based macro defect inspection on the same wafer handler platform that is used by all of the company's advanced inspection and metrology tools. The WS 3840 meets manufacturers' growing need to manage back-end processes for maximum yield and profitability at a time when technical demands and costs are escalating rapidly.

"As the cost of advanced packaging processes grows, manufacturers have come under increasing pressure to control performance within narrowing process windows and the economic benefits of fast, accurate inspection and metrology have multiplied," stated Roy. "Rudolph has an established leadership presence in the back-end, and the availability of the new WS 3840 demonstrates our commitment and determination to maintain that position."

The WS 3840 Inspection System uses Rudolph's proprietary laser triangulation technology to provide fast and accurate measurements of bump height and coplanarity. A time delay integration (TDI) line scan camera provides image-based macro defect inspection for wafer surface and bump, and measures 2D bump characteristics, such as diameter, shape and placement accuracy. High-resolution color imaging is also available for defect review and classification.

The Rudolph inspection platform, with 200 mm and 300 mm wafer handling capability, combines fast robots and intelligent scheduling capabilities to maximize handling throughput. Automatic defect classification, sophisticated analytical routines and comprehensive reporting extract actionable information from the massive data stream quickly and efficiently. The system imports and exports wafer maps in all major data formats to facilitate offline defect review.

Rudolph Technologies is a worldwide leader in the design, development, manufacture and support of high-performance process control metrology, defect inspection and data analysis systems used by semiconductor device manufacturers. Rudolph provides a full-fab solution through its families of proprietary products that provide critical yield-enhancing information, enabling microelectronic device manufacturers to drive down costs and time to market. The company has enhanced the competitiveness of its products in the marketplace by anticipating and addressing many emerging trends driving the semiconductor industry's growth. Rudolph's strategy for continued technological and market leadership includes aggressive research and development of complementary metrology, inspection and analysis solutions. Headquartered in Flanders, New Jersey, Rudolph supports its customers with a worldwide sales and service organization.

Additional information can be found on the company's web site at www.rudolphtech.com.

More from Architectural & Civil Engineering Products