Inspection Management Software comes with task-specific applications.
Press Release Summary: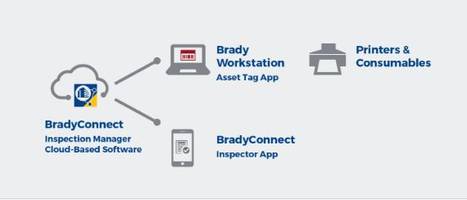 BradyConnect Inspection Management Software features intuitive interface and dashboard. Unit offers inspection and asset management workflows. Product is used to identify, schedule and perform inspections of equipment. Software comes with BradyConnect inspector app which is used for on-the-go tracking. 
---
Original Press Release:
Brady Launches Innovative BradyConnect Inspection Management Software
New software program provides all-in-one equipment and safety inspection management
Brady (NYSE:BRC), a global leader in industrial and safety printing systems and solutions, announced today the launch of BradyConnect Inspection Management software, a fully integrated safety, identification and business productivity solution. This cloud-based software offers a seamless experience for facility management by combining inspection and asset management capabilities with label creation and printing solutions.
"We know that having a safe and compliant workplace is important, and having an effective facility management system makes that easier to achieve. The BradyConnect software provides this management system by combining asset and inspection workflows into one flexible and easy-to-use program," said Dave Neuman, global product manager for software at Brady. "This software allows users to maximize workplace efficiency and streamline processes, so they can focus on the safety of employees in their facility."
The BradyConnect Inspection Management system features task-specific applications that are optimized to get work done quickly. Its intuitive interface and dashboard help users effortlessly identify and track assets, schedule and perform inspections on dozens of equipment types, then report inspection data. In addition, BradyConnect Inspection Manager connects with Brady Workstation software for easy label creation, and the BradyConnect Inspector App for on-the-go tracking. All of these features are backed by more than 100 years of manufacturing and safety expertise from Brady.
Learn more about how BradyConnect software can improve facility management at connect.bradyid.com.
For More Information For the complete product offering from Brady, visit BradyID.com.
About Brady Corporation:
Brady Corporation is an international manufacturer and marketer of complete solutions that identify and protect people, products and places. Brady's products help customers increase safety, security, productivity and performance and include high-performance labels, signs, safety devices, printing systems and software. Founded in 1914, the Company has a diverse customer base in electronics, telecommunications, manufacturing, electrical, construction, medical, aerospace and a variety of other industries. Brady is headquartered in Milwaukee, Wisconsin and as of July 31, 2017, employed approximately 6,300 people in its worldwide businesses. Brady's fiscal 2017 sales were approximately $1.11 billion. Brady stock trades on the New York Stock Exchange under the symbol BRC. More information is available on the Internet at www.bradycorp.com.
Related