Inspection Crawlers include laser and sonar profiling.
Press Release Summary: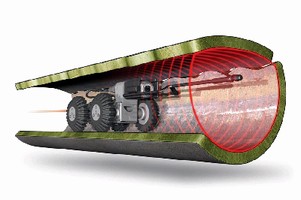 Using laser and sonar profiling tools, ROVVER® and SuperVision® analyze pipe for indications of deformation, corrosion, debris, accumulation, and improper liner installation. Laser profiler works above flow lines, while sonar profiler works below. Consisting of probe that attaches to head of camera, profilers come with software for report generation. They measure diameter and concentricity of pipe 4-160 in. in dia, performing up to 250,000 measurements/min with ±1% accuracy.
---
Original Press Release:
Envirosight ROVVER & SuperVision Inspection Crawlers Enhanced with Laser & Sonar Profiling
Laser and Sonar Profiling for ROVVER® and SuperVision® Inspection Crawlers Measures Pipe Deformation, Corrosion and Debris; Verifies Liner Installations. Randolph, New Jersey-September 1, 2007-New laser and sonar profiling tools from Envirosight integrate with ROVVER® and SuperVision® inspection crawlers, allowing them to analyze pipe for indications of deformation, corrosion, debris accumulation, and improper liner installation. The laser profiler works above flow lines, and the sonar profiler works below. Each can be used individually, or both simultaneously. The profilers come with software capable of generating a multitude of reports, each presenting a wealth of data in an easy-to-understand format. The profiling hardware consists of a probe which attaches in seconds to the head of a ROVVER or SuperVision camera. No modification of the crawler is required. The probe is fitted with a laser or sonar profiler, or both. Together with the included profiling software, the probe measures the diameter and concentricity of pipe 4-160 in. in diameter, performing up to 250,000 measurements per minute with ±1% accuracy. Using machine vision, the profiler software extracts the laser profile from the camera's video feed. It combines this information with sonar data (where available and necessary) to analyze the entire circumference of the pipe at rapid intervals. This data is aggregated over the entire length of the pipe, and can be used to generate standard reports with statistical analyses, as well as an onscreen 2D or 3D representation of the pipe's interior wall. Standard reports are available to track a pipe's true diameter, ovality (per ASTM 1216), capacity, x/y diameter and maximum diameter. The software can generate a 3D representation of the pipe, with variations in the pipe wall shown in sharp relief for easy visual analysis. A 2D representation is available, as well, where the pipe interior is flattened into a chart whose y axis represents pipe diameter, whose x axis represents pipe length, and whose color represents deviation from concentricity or severity of corrosion. For engineers, additional reports are available addressing corrosion, structural cracking, debris, and consistency of relining (before-and-after). "Inspection professionals want more information," said Mike Russin, Advanced Technology Manager at Envirosight. "They're no longer content just to see video from a pipe. They want hard dimensional data that will help them better evaluate structural condition, corrosion/erosion, flow capacity, and relining. We're excited to offer tools that deliver this and more, all while leveraging the operator's existing crawler investment. Best of all, new users are up and running with just a day's training." The new laser and sonar profiling tools are available immediately. They integrate with any ROVVER or SuperVision pan/tilt or pan/tilt/zoom camera. Trusted for nearly 20 years, Envirosight crawler systems boast a modular design that allows quick reconfiguration for any combination of pipe size, material and condition. Steerability, short wheelbase and six-wheel drive allow these crawlers to navigate past debris and obstructions, climb offsets, and pass through inverts and curved access points. Three chassis sizes allow inspection of pipelines 4" to 60" diameter. Systems are available with a fully automatic cable reel, which uses a precision tension sensor to reduce the pulling burden on the crawler (thus extending inspection range), as well as to prevent cable tangles during backward crawl. Compact in size and drawing less power, these systems are also more portable and require substantially less operational overhead. About Envirosight LLC Randolph, New Jersey-based Envirosight, LLC provides video pipeline inspection solutions to municipalities, contractors, departments of transportation, and civil/environmental engineers. Envirosight is committed to ongoing innovation, delivering products that enhance user productivity and inspection detail. Envirosight serves customers through a trained network of regional sales partners who deliver localized support and expertise with rapid turnaround. All Envirosight technical employees hold NASSCO PACP certification. Visit Envirosight online at www.envirosight.com Contact: Maureen Murray, 973.993.1570
More from Machinery & Machining Tools