Inspection Crawlers are offered with rear-viewing camera.
Press Release Summary: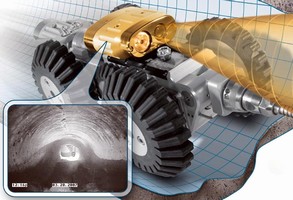 ROVVER 125/225 Series are available with BackEye(TM) auxiliary camera option that enables operators to see behind crawler in order to steer around obstacles and prevent cable tangles during reverse travel. Along with 0.005 lux sensitivity, monochrome camera also includes 3 forward-facing narrow-beam LED lamps to enhance forward viewing. It uses compact IR illumination and consumes 0.8 W of power. Camera's ¼ in. CCD imager measures 765 x 582 pixels.
---
Original Press Release:

Backeye(TM) Rear-Viewing Auxiliary Camera for ROVVER® Inspection Crawlers Assists with Reverse-Travel; Incorporates Forward-Facing Auxiliary Lamps.



Randolph, New Jersey-April 10, 2007-The new BackEye auxiliary camera lets a ROVVER operator see behind the crawler in order to steer around obstacles and prevent cable tangles during reverse travel. The accessory also includes three forward-facing narrow-beam LED lamps to improve forward viewing. It is available as a retrofit for existing ROVVER 125/225 crawlers, and as an option for new ROVVER 125/225 crawlers.

BackEye's ultra-sensitive (0.005 lux) monochrome camera uses compact infrared illumination to achieve impressive sight range while consuming just 0.8 watts of power. The camera's ¼" CCD imager measures 765 x 582 pixels, allowing it to capture video at high-resolution (520 TV lines). Automatic shutter and white balance ensure optimum video exposure.

To improve forward viewing, BackEye also incorporates three (125 Series) or six (225 Series) 5-watt LED lamps, each focused to a 5-degree beam for maximum range. These lamps augment the illumination built into ROVVER's forward-viewing inspection camera.

Designed for performance and dependability, BackEye is made of stainless steel and anodized aluminum. Makrolon windows protect the forward-facing LED lamps and rear-facing IR lamp; a scratch-resistant sapphire window protects the rear-viewing camera. The accessory measures just 3.75" x 3.39" x 1.46" (95 x 86 x37 mm) and attaches/detaches easily to/from the ROVVER top-plate.

"Crawlers spend half their operating lives traveling in reverse, and most do so blindly," said Richard Lindner, president of Envirosight. "With BackEye, an operator never has to guess what pitfalls lay ahead. Rear viewing is crucial to preventing flips, wedges and cable snags-accidents that can sap productivity and incur hefty repair bills."

Trusted for nearly 20 years, ROVVER crawler systems boast a modular design that allows quick reconfiguration for any combination of pipe size, material and condition. Steerability and short wheelbase allow ROVVER crawlers to navigate past debris and obstructions, climb offsets, and pass through inverts and curved access points. Three chassis sizes allow inspection of pipelines 4" to 60" diameter. The ROVVER line also offers a fully automatic cable reel, which uses a precision tension sensor to reduce the pulling burden on the crawler (thus extending inspection range), as well as to prevent cable tangles during backward crawl. Compact in size and drawing less power, ROVVER systems are also more portable and require substantially less operational overhead.

About Envirosight LLC

Randolph, New Jersey-based Envirosight, LLC provides video pipeline inspection solutions to municipalities, contractors, departments of transportation, and civil/environmental engineers. Envirosight is committed to ongoing innovation, delivering products that enhance user productivity and inspection detail. Envirosight serves customers through a trained network of regional sales partners who deliver localized support and expertise with rapid turnaround. All Envirosight technical employees hold NASSCO PACP certification. Visit Envirosight online at www.envirosight.com