Inspecting Highly Complex EDM Projects with Industrial CT Scanning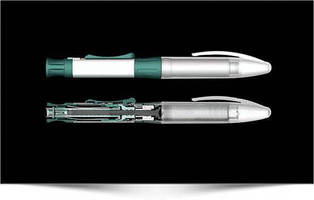 Moldmakers and manufacturers of complex production parts requiring EDM for the medical and aerospace industries know very well how difficult it can be to meet a part designer's extreme tolerances—specifically for highly complex, detail-oriented inserts or parts. One can only imagine how an EDM manager contemplates the frustration looming over his or her head when approached by such a difficult project.



It has been a formidable challenge for EDM departments to not only implement complex part designs, but to do so in a repeatable manner while maintaining quality control. The difficulty in inspecting inserts on highly complex, detail-oriented component parts has proven to be a lengthy and costly issue for EDM, for which we cannot dismiss the role of inspection and the accuracy that must accompany such projects.



How Industrial CT Supports Highly Complex EDM Projects

Turning to industrial CT scanning for your EDM projects is a viable inspection solution because industrial CT helps you go from the problem steel back to the process quickly and accurately, thereby improving quality control and reducing costly rework.



Mold manufacturers who employ industrial CT scanning to accurately measure their inserts or small parts themselves are taking the proper steps to measure the features being burnt in, and so meeting geometry requirements much faster than conventional methods. In addition to measuring internal features, industrial CT is also able to analyze for flatness, surface profiles, run outs and a variety of GD&T call outs.



Today's industrial CT technology can be easily applied when used on pieces smaller than 12" diameter of solid aluminum and magnesium, or 3" diameter of solid steel. Industrial CT is found to be useful for EDM in the following industries: molding applications in electronics, automotive, aerospace and medical; and EDM applications involving production parts in space, aerospace and medical.



Case in Point: Insulin Injectors

Insulin injectors are not much bigger than the ball-point pens that give them the name insulin pen. They have the advantage of fitting into any pocket, giving their users more mobility and easier handling during insulin injection. Depending on the blood sugar level, the required quantity of the substance is selected on the pen and injected through a spring-driven needle. Reliability in use is absolutely essential. Under no circumstances must operability be impaired (e.g., extreme variations in temperature). This is why high production quality with narrow tolerances (± 25 µm) is indispensable.



Before such a pen goes into serial production, samples are molded in multiple cavity molds and thoroughly inspected along stringent guidelines by quality specialists. Because of the detail involved on the molded parts, the most critical features are EDM'd. Even when staying steel safe in the burning process, part warp and fitting still require numerous iterations of weld, machine, spot, EDM and handwork. With industrial CT, molders are now able to measure the first parts off a mold, accurately inspect the EDM'd feature on the steel and then make a single strategic step to EDM and finalize the area correctly the second time.



Summary

You are going from the EDM process to part, not meeting specifications then needing to go back to the process and start all over again. Things need to run smoothly, and when they don't you are no longer in control of assuring quality.



For example, what do you do after burning a feature incorrectly and the part cannot be checked correctly? Currently, you make strategic guesses and repeat the process. This problem is no longer the case because by using a non-destructive inspection method—such as industrial CT scanning—you are able to drastically reduce pre-production inspection costs and analyze internal failures quickly and accurately in 3D. The nondestructive testing process allows for improved quality control without modifying the part or applying external measurement forces during inspection.



Industrial CT scanning plays an integral part in the EDM process when it comes to inspecting small, highly complex, detail-oriented parts. This ensures that parts meet the requirements of fit, function and interchangeability. Industrial CT scanning is setting a new standard in qualifying production parts and molds quickly and accurately while reducing inspection costs. This is achieved by using the right technology, expert analytical support and scan data calibration to ensure accuracy. The accuracy, efficiency and reduced turnaround times provided by industrial CT scanning ensures that it will continue its trend of becoming a required tool for inspection, as industry leaders are identifying both the value in inspection standards and the cost-effectiveness it offers.



More from Services