Inserts machine gummy, non-ferrous, and steel materials.
Press Release Summary: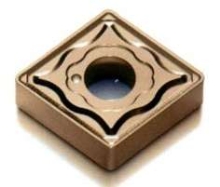 ValTURN(TM) Turning System tools include 3 top form geometries: M8, R4, and C2. Double-sided inserts of ANSI Negative type geometry come in various shapes and thickness, offering 98 specific performance options. Used in continuous and interrupted cuts, M8 suits medium machining applications. Heavy-duty R4 is designed for roughing of steels and cast irons, while positive cutting land on C2 ensures chip control at low depths of cut.
---
Original Press Release:

Valenite's Turning System Adds Three New Insert Geometries


Valenite has again expanded its ValTURN(TM) Turning System with the addition of three new top form geometries to its lineup of turning tool inserts. The new geometries are combined with two existing MTCVD coated tooling grades, VP5515 and VP5525, to extend the potential application range of the three ValTURN tools, targeting those for medium loads with continuous or interrupted cuts, for heavy load roughing applications, and for low depth of cut finishing operations in low carbon steels or gummy materials. Laboratory tests, as well as field trials have indicated the geometries and grades combination provide superior chip control and cutting performance for machining operations of ferrous materials.

All three new top forms are ANSI Negative type geometry and are double sided inserts The selection array is further augmented with various insert shapes, thickness, inscribed circle, corner radius, etc., resulting in 98 new items and 98 specific performance options for a wide variety of cutting operations. The new geometries include:

o M8 Designation-This geometry features a neutral land to provide a high strength cutting edge in medium machining applications. Can be used in both continuous cuts and interrupted operations and is ideal for steels, stainless steels, and cast irons.

o R4 Designation-This top form is incorporated in a heavy-duty insert with a wide neutral land for higher strength cutting edge required in heavy roughing applications of steels and cast irons. The design is well suited for continuous or interrupted cuts and is a good 'general purpose' as well as roughing tool for a wide range of applications.

o C2 Designation-Features a special geometry that includes a positive cutting land which assures good chip control at low depths of cut. The C2 geometry is ideal for low carbon steels and "gummy" materials, yet provides excellent control of surface finishes.

The alphanumeric designation of Valenite's ANSI Negative top form geometry nomenclature represents the typical operation, i.e., F is for finishing, M represents medium machining, R is for roughing while a C designates complementary. The number, running from 1 thru 9, identifies the relative edge strength, with nine being the highest strength and fastest feed rate.

The VP5515 and VP5525 tools grades both are MTCVD-process coated carbide using TiCN/Al2O3/TiN. The substrate is enriched with cobalt to provide resistance to edge chipping and the insert has polished cutting edges to prevent material build-up

The entire ValTURN Turning System includes a vast array of inserts for steel, stainless steels, cast irons, high temperature alloys, aluminum and non-ferrous alloys, and hardened part turning applications, plus the ValTURN ProGRIP(TM) toolholders that offer stability, accuracy and versatility in an easy-to-use format.

Valenite will continue to introduce new grades and geometries throughout 2005 to expand market coverage to more than 90% of applications.

As with all Valenite products, the ValTURN Turning System tools are supported through the company's top-rated ValPro(TM) Customer Service for ordering, pricing and delivery scheduling, plus a technical staff offering continuously updated product and application data, and recommendations to optimize metal cutting productivity.

Valenite, headquartered in Madison Heights, Michigan with sales and service operations worldwide, is one of the largest suppliers of industrial cutting tools in the world. The company offers a complete line of standard and special indexable-insert turning, milling, grooving, threading, boring and drilling products to a variety of industries. Its product line also includes the ValCOOL® line of cutting fluids. In addition, special high-production tooling for custom machining systems is produced under the MODCO® name and a full range of inline, process and bench gaging systems is produced under the GAGING Systems name.

More from Architectural & Civil Engineering Products