Inserts help increase gray cast iron processing speed.
Press Release Summary: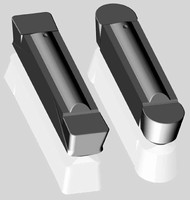 A4 groove and turn inserts, made of KYON 3500, are suited for plunge grooving as well as high-speed groove and turn applications on gray cast iron. Silicon nitride ceramic grade insert features guide rail on top and 120° v-prism on bottom that seats product securely in toolholder. Offered in rectangular and full-radiused styles, A4 double-ended insert comes in cutting widths from .125-.250 in. and is also available in carbide grades.
---
Original Press Release:

Tougher Kennametal A4 Groove & Turn Inserts Boost Gray Cast Iron Processing Speeds



(LATROBE, PA) - Kennametal's new A4 groove & turn inserts, made of KYON 3500, a proprietary Si3N4-ceramic grade, enable high-productivity machining of gray cast iron with superior performance in high-speed grooving applications.

KYON 3500 is an advanced silicon nitride ceramic grade developed by Kennametal. In tests, the higher toughness of KYON 3500 and the advanced insert design resulted in higher feed rates, about 20 to 40% higher than competitors' products.

Kennametal's A4 inserts in KYON 3500 are specifically designed for high-performance plunge grooving and groove & turn applications on gray cast iron. Products that can benefit from the new A4 inserts include brake discs, brake drums, and wheel hubs in the automotive market as well as valve components in general engineering applications.

"Anybody who can benefit from running higher speeds can run a lot faster with this product," says Latanyua Robinson, Kennametal Product Manager, Grooving, North America. "And time saved is money saved."

Kennametal's A4 inserts also benefit from a unique design that make them more effective in side turning and groove & turn applications, says Helmut Gremer, Product Manager, Grooving, Europe. The A4 insert features a distinct guide rail on the top and a 120-degree v-prism on the bottom that seat it more securely in the toolholder. "This precise fixturing results in improved rigidity for the entire system," Gremer explains, "resulting in improved performance."

The A4 double-ended insert is available in both rectangular and full-radiused styles. Available cutting widths range from three to eight millimeters (.125 to .250 inches).

The A4 inserts are already offered in carbide grades. Now available in KYON 3500, supplemental KYON grades will be added for aerospace and other applications. The A4 system provides a full line of toolholders and inserts, offering a productive solution for an ever-widening range of processing tasks.

For more information, contact your local Kennametal sales agent or visit www.kennametal.com.

Kennametal Inc., Latrobe, PA; (800) 446-7738; www.kennametal.com

More from Laboratory and Research Supplies and Equipment