Insertion Heaters are split along length of cartridge sheath.
Press Release Summary: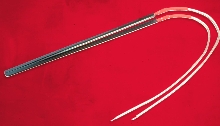 Model SST has single split sheath, with 2 sections that expand outward. QST, or Quad model has additional sections that expand outward in 4 directions. Both have single-circuit design, provide sheath temperatures up to 1400°F, and watt densities up to 100 W/sq in. Heaters have Incoloy® sheath and ceramic bushing under potting cap providing isolation of connector. SST ranges from 3/8 to 3/4 in dia, while QST ranges from 1/2 to 3/4 in. dia.
---
Original Press Release:

Split Sheath Insertion Heaters Now Available from Chromalox


PITTSBURGH - May 31, 2002- Chromalox announces Split Sheath Insertion Heaters, designed to provide superior conductive heat transfer and easy change-out. Unlike conventional cartridge heaters, the SST and QST Split Sheath Insertion heaters are split along the length of the cartridge sheath. When energized, the sections expand and improve surface contact with platens,
dies, and molds; when cool, the sections contract for easy removal. Primary applications include plastic molding, extrusion, heat-seal packaging, aluminum-zinc die casting, and the manufacture of metal grids used in automotive batteries.

The SST model has a single split sheath, with two sections that expand outward. The QST, or Quad model has additional sections that expand outward in four directions.

Chromalox Split Sheath Heaters provide sheath temperatures up to 1400 degrees F, and they are especially suited for applications where insertion holes are worn or poorly drilled. For example, in compression molding the heaters are frequently removed from the die after a production run, and the holes become worn with age. Chromalox's Split Sheath Heaters provide superior heat transfer in these applications.

The heaters also resolve the common problem of stuck cartridge heaters. Uneven temperatures can cause the passages inside of platens and dies to curve, making it difficult to remove the
heater. The split sheet design slips out easily, and its use can eliminate downtime and maintenance costs resulting from stuck heaters. Furthermore, when reaming or redrilling of a worn, corroded or curved passage is not practical, a split sheath heater of appropriate diameter can provide like-new performance and long-lasting, trouble-free operation.

With watt densities up to 100 watts per square inch, each of these Chromalox heaters has a single-circuit design. Competing products use multiple elements in electrically parallel circuits.
If one of the multiple elements fails, it may be difficult to troubleshoot and find the cause of the resulting temperature drop. In contrast, the Chromalox design uses a single-circuit, providing clear assurance that the heater is either performing at 100 percent, or has an open circuit and needs to be replaced.

For long life at extreme temperatures, the Chromalox Split Sheath Insertion Heaters feature a durable Incoloy® sheath. In addition, the elements have been compacted to maximum density
for excellent element-to-sheath heat transfer and dielectric strength. What's more, these are the only split sheath heaters that use a ceramic bushing under the potting cap, providing
superior isolation of the connector.

The SST model is available in diameters ranging from 3/8 inches to 3/4 inches. The QST model is available in diameters from 1/2 to 3/4 inches. Sheath lengths range from 5 to 120 inches. A wide variety of ternination styles and leads are available to suit nearly any environment or application.

Pricing and Availability.
Chromalox Split Sheath Insertion Heaters are available four weeks CRO, from $30.

For more information. The product data sheet (PDS) for Split Sheath Insertion Heaters contains selection guidelines and How-To-Order information. To download the PDS and obtain pricing information on Split Sheath Insertion Heaters, or any Chromalox product, visit www.mychromalox.com. Or contact Chromalox at:
Telephone: 800-443-2640
412-967-3800
FAX: 412-967-5148
Address: Chromalox
103 Gamma Drive Extension
Pittsburgh, PA 15238

About Chromalox, Inc.
For more than 85 years, customers have relied on Chromalox for the utmost in quality and innovative solutions for industrial heating applications. Chromalox manufactures the world's largest and broadest line of electric heat and control products, including heating components, immersion heaters, circulation systems, heat transfer systems, boilers, industrial and comfort
air heating, heat trace cables, sensors and precision electronic controls. With multiple manufacturing, engineering, warehousing and sales locations throughout North America and Europe, Chromalox is a global supplier providing the highest level of customer support. Chromalox is headquartered in Pittsburgh, PA.

Products and company names listed herein are trademarks or trade names of their respective companies.

More from Electronic Components & Devices