Insert Grades suit steel, SS, and cast-iron cutting applications.
Press Release Summary: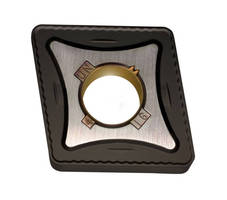 Comprised of 2000+ line items, CVD-coated Beyond(TM) grades feature post-coat surface treatment that optimizes depth-of-cut notch resistance and micro-polishes surface to minimize friction and workpiece sticking. They also feature fine-grained alumina layer to maximize productivity at high cutting temperatures. Product line consists of 5 grades and 22 geometries for steel, 3 grades and 10 geometries for cast iron, and 3 grades and 8 geometries for SS turning.
---
Original Press Release:

Complete New "Beyond(TM)" Platform - 11 New Grades, 25+ Geometries, 2000+ Line Items - Launched by Kennametal



(LATROBE, PA) - Kennametal has launched Beyond(TM), an entire platform of new high-performance turning products. Due to higher metal-removal rates and extended tool life, these products promise to push productivity 30% higher or more for a broad spectrum of metalworking users. "Customers will be able to apply Beyond(TM) tools across a wide range of cutting parameters with extended tool life and higher productivity as the results," says Ujjwal (UJ) Baid, Kennametal Senior Product Manager. "Depending on the application, field tests have shown anywhere from 30% to 300% improvement."

Beyond(TM) products comprise a complete line of 11 new grades applicable to steel, stainless steel, and cast-iron turning applications. A new post-coat surface treatment improves edge toughness, reliability, and depth-of-cut notch resistance, and micro-polishes the surface to reduce friction and workpiece sticking (BUE). A fine-grained alumina layer allows for increases in cutting speed, improving productivity and reliability at high cutting temperatures.

The 11 new Beyond(TM) grades consist of five grades and 22 geometries for steel turning; three grades and 10 geometries for cast iron turning; and three grades and eight geometries for stainless steel turning. Manufacturers in the transportation, aerospace, oil and gas, medical, and general engineering industries could realize significant speed, feed, and depth of cut increases depending on the application. "The goal is to help customers further optimize their performance with tools that are more reliable and predictable while providing higher productivity and tool life," says Baid. "This launch covers a complete portfolio of new turning products. Beyond platforms for milling and holemaking are on their way, too."

New tools are traditionally introduced to the market one at a time; Beyond's launch encompasses more than 2,000 line items that have been several years in development. "A wide range of materials and applications were investigated," says Chuck McNerny, Manager, Global Grade Development at Kennametal. "Each specific grade is optimized with substrate characteristics and coating thickness specific to its application. The result is productivity improvement and an expanded range of application for each new product compared to the original grade."

For example, KCP40, a new Beyond grade for roughing steel, shows speed and depth-of-cut increases of 10% to 20% in tests against competitive grades. KCP05, a new Beyond grade for finishing steel, showed feed increases of 30 to 40% in similar tests.

All the new Beyond inserts are CVD (chemical vapor deposition) coated, but whereas conventional CVD coatings are under tensile stress, Beyond inserts undergo a proprietary post-coat treatment on all surfaces to reduce this stress, which improves coating adhesion and reduces micro-chipping. "More uniform and reliable wear of the cutting edge results in improved and more consistent tool life," says Kent Mizgalski, Manager, Global Lathe Systems Engineering at Kennametal. "Smoother surfaces also lower frictional forces, another factor that expands applications and permits higher cutting speeds. Together with the right geometry, we've seen big improvements in chip control and tool life in both internal and field tests."

Ductile Iron Machining

KCK05

Competitive Product

Steel Machining

KCP10

Competitive Product

Stainless Steel Machining

KCM25

Competitive Product

It's a common misconception that new products are for higher-speed applications only, adds Chuck McNerny. "The new Beyond line also shows improved performance at currently used speeds and hence lower cutting temperatures," he says. "You can measure productivity by increased feeds and speeds or by deeper and smoother cuts. Either way, you win. Additionally, all Beyond inserts are top- and bottom-ground after coating for a better seating surface in the toolholder, which improves security."

In field tests, Beyond products saw action in applications as diverse as railroad wheel machining, green machining of bearings, and roughing heavy forgings. Productivity gains were "overwhelming," whether measured by increased number of parts produced or increased tool life. Moreover, tests were conducted in customer sites around the world, including the U.S., Germany, Italy, France, India, and Japan, among others. "This was an extremely coordinated effort involving Kennametal R&D, engineering, manufacturing, product management, and marketing, in addition to customer communication," says Chuck McNerny. "The result is a line of new and improved turning inserts that make it very easy for metalworking manufacturers to upgrade their processes. It's plug and play."

For more on Beyond, visit www.kennametal.com.

Kennametal Inc. (NYSE: KMT) is a leading global supplier of tooling, engineered components and advanced materials consumed in production processes. The company improves customers' competitiveness by providing superior economic returns through the delivery of application knowledge and advanced technology to master the toughest of materials application demands. Companies producing everything from airframes to mining equipment, from medical implants to oil wells and from turbochargers to motorcycle parts recognize Kennametal for extraordinary contributions to their value chains. Customers buy approximately $2.4 billion annually of Kennametal products and services - delivered by our 14,000 talented employees in over 60 countries - with 50% of these revenues coming from outside North America. See www.kennametal.com.

Kennametal Inc., Latrobe, PA; (800) 446-7738.

The new Beyond(TM) line from Kennametal.

More from Test & Measurement