Insert Drills feature four cutting edges.
Press Release Summary: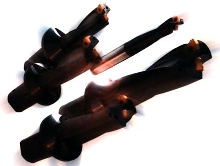 Top Cut Plus indexable-insert, coolant-fed drilling systems can use 3 different positive rake insert geometries, each with 4 cutting edges. Metric sizes are from 11 to 34 mm. The 2X diameter drill is used for maximum drilling rigidity; 3X drill is for general-purpose usage; and 4X is for deep hole drilling. All have rigid shanks that meet DIN 6595/IS0 9766 standard. Drills can be applied horizontally or vertically in rotating or stationary applications.
---
Original Press Release:
Valenite Expands Insert Drilling Line with New "Top Cut Plus" Indexable Insert Drills

New insert drills feature inserts with four cutting edges for improved productivity and maximum production safety across the full range of applications.

"Top Cut Plus", a new and expanded generation of indexable-insert coolant-fed drilling system that can use three different positive rake insert geometries, each with four cutting edges, is now available from Valenite Inc. The system provides optimum performance in drilling steel, cast iron and non-ferrous materials.

The "Top Cut Plus" indexable insert drill system, Fig. 1, is offered in a range of sizes in Metric diameters. Metric sizes are from 11 to 34 mm. The 2X diameter drill is used for maximum drilling rigidity. The 3X diameter drill is for general-purpose usage and the 4X diameter drill is for deep hole drilling. All have rigid shanks that meet DIN 6595/IS0 9766 standard. The drills utilize a unique insert design that affords maximum strength and features four cutting edges per insert. The drills can be applied horizontally or vertically in rotating or stationary applications. Through coolant capabilities are accommodated axially.

Two inserts are used, even on small sizes, for balanced cutting conditions. The inserts are held in position by a simple and economical locking screw that is countersunk so that no protruding parts restrict chip flow. In addition, insert indexing and changing can be performed without removing or resetting the tool. A redirected flute design is utilized for improved chip evacuation and increased strength.

For optimum insert usage and minimum cost per edge, four insert indexes are possible with the unique XMOT series of precision-sintered carbide inserts, each available in four coated and uncoated carbide grades. Inserts are task-matched for peak drilling performance. XOMT-34 is an all-around geometry for drilling steels and cast irons. A strong cutting wedge and reinforced center cutting edge make it ideal for interrupted cuts. XOMT-35 has fish-scale geometry with low cutting forces and a highly positive rake angle. This high-performance geometry reduces burring and edge chipping which is ideal for drilling high-alloy and stainless steels, cast irons and non-ferrous materials. XOMT-36 has claw geometry. It produces short chips with reliable chip control and is ideal for low-alloy steels and tough materials like stainless steels. The available grades include SD307 MTCVD coated with TiCN-TiC-Al2O3-ZrCN; SD415 MTCVD coated with TiN-TiCN-Al2O3-ZrCN; TP-C35 PCVD coated with TiN, and THM an uncoated hardmetal grade.

A complete inventory including drills, inserts, screws, metric adapters, retention knobs, and split bushings are available.

Valenite is one of the largest manufacturers of industrial cutting tools in the world. Headquartered in Madison Heights, Michigan, Valenite has manufacturing, sales and service operations on five continents. Valenite offers a complete line of standard and special indexable-insert turning, threading, grooving, boring, milling and drilling products to a variety of industries. Valenite also manufacturers carbide die and wear parts, extruded carbide products, high-speed steel cutting tools, and electronic gaging systems. In addition, special high-production tooling for custom machining systems is produced under the MODCO® name. Valenite also markets the VALCOOL® line of cutting fluids.

For Further Editorial Information Contact:
Allan G. Hall
Kracoe Szykula & Townsend Inc.
2950 West Square Lake Rd., Suite 207
Troy, Michigan 48098
Telephone: 248-641-7500
Fax: 248-641-4779
E-Mail: [email protected]

Send All Inquiries To:
Barb Craig
Valenite Inc.
1711 Thunderbird
Troy, Michigan 48084
Telephone: 248-589-7556
Fax: 248-597-4902
E-Mail: [email protected]