Insert Couplings transmit torque up to 4,000 lb-in.
Press Release Summary: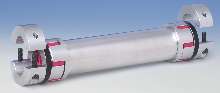 Servomax Series EZ2 line shaft couplings incorporate backlash-free, vibration damping elastomer inserts. Couplings span distances from 4-13 ft without center support and transmit torques from 88.5-4,000 lb-in. Coupling ends have elastomer element pressed between 2 sets of precision machined jaws, providing zero backlash, guaranteed concentricity, and electrical insulation. Inserts are available in 3 different shore values.
---
Original Press Release:

Servo Insert Line Shaft Series EZ2


Servo insert couplings up to 450 Nm

Innovating to keep ahead of increasing technical demands in modern machine design and construction, R+W has developed the SERVOMAX EZ2 series of elastomer insert line shafts.

These unique line shaft couplings are manufactured with backlash free, vibration damping elastomer inserts, and high strength precision aluminum tubes exhibiting very high torsional rigidity. The couplings can span distances from 0.1 to 4 meters
(4 in to 13 ft) without a center support, and can transmit torques from 10 to 450 Nm (88.5 to 4,000 in. lbs.)

The R+W SERVOMAX coupling ends have an elastomer element that is press fit between two sets of precision machined jaws, giving it zero backlash and guaranteed concentricity. The elastomer insert is available in three different shore values, allowing the customer to choose according to how great of a damping effect is required for the application. The elastomer insert also electrically insulates the two coupling halves.

A result of the careful design of this line shaft is the fact that the tube can be completely supported by the coupling ends. This eliminates the need for an intermediate support bearing.

Contact R+W America 630-521-9911, or for more information or visit www.rw-america.com

Properties:
- backlash free
- high dampening of loads or shocks
- precisely manufactured components
- three different shore values of the inserts
- low price - high value

More from Paints & Coatings