Insect Growth Chamber offers rearing-specific features.
Press Release Summary: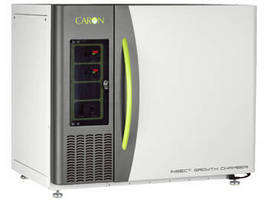 With 10 ft³ work space, Model 6015 Benchtop Insect Growth Chamber offers biologists ways to rear insects for entomological studies. Features are designed to support insect rearing in environmental chamber, including phenolic-coated coils that resist corrosion. Other features include gROD(TM) (Refrigeration on Demand), control system, and gVapor(TM) steam-free humidity system. Stainless steel interior offers tool-free adjustment of chamber configuration.
---
Original Press Release:

Caron Expands Insect Growth Products



(Marietta, OH) Caron continues to expand the range of products by now offering a Benchtop Insect Growth Chamber, Model 6015. The new Benchtop Insect Growth Chamber offers 10 cu. ft. (283 liters) of work space and is engineered to have many of the same popular features as the Reach-In 25 cu. ft. unit, Caron Model 6025.

"We are pleased to increase our product offerings to the entomological field of study," said Bob Dotterer, Applications Engineer. "With the new 6015, we now offer biologists ways to rear insects in a compact, benchtop chamber."

This new model also shows Caron's continuing commitment to produce technologically innovative and earth-friendly products.

Many standard features are incorporated in the design to specifically support insect rearing in an environmental chamber, including the phenolic-coated coils that resist corrosion inherent in the rearing of insects, such as drosophila.

Other standard features include Caron's innovative gROD(TM), Refrigeration on Demand, control system and gVapor(TM), a steam-free humidity system. gROD(TM) efficiently manages power consumption and saves electricity and gVapor(TM) delivers controlled humidity without wasting energy or generating heat. Both technologies support lower operating costs and offer customers an earth-friendly testing solution.

"Many other competitive chambers use steam generators to produce and control humidity," Dotterer said. "When the steam produces heat, it has to be removed by a refrigeration system. Because of this, many of our competitors' chambers waste energy, which increases the cost of ownership."

Like other 10 cu. ft. units manufactured by Caron, the Insect Growth Chamber is designed with a stainless steel interior which is highly resistant to corrosion. It also includes the unique tool-less interior, allowing users to adjust the interior configuration of the chamber with ease.

The Model 6015 comes standard on leveling feet, making it ideal for benchtop studies. A stacking kit option is also available.

"We want to offer these researchers the option to have stackable units," Dotterer said. "By stacking two 6015s on top of each other, multiple insect rearing conditions and studies can be accomplished in a small space."

Wide selections of optional accessories are available and allow users to customize the units for their particular application. Such optional accessories include, but are not limited to: light packages to simulate day/night conditions, water purification systems and recorders.

Caron's design also includes an ergonomically designed door handle to allow easy access into the chamber and contribute to workplace efficiency.

To learn more about Caron's new Insect Growth Chamber, contact Caron today at 740-373-6809 or toll-free at 800-648-3042. To view more information on the Insect Growth Chamber, visit caronproducts.com/insectgrowthchamber. To download product literature, click here.

About Caron:
Caron Products & Services, Inc. is a Marietta, Ohio based manufacturer of environmental chambers for temperature and RH exposure testing; photostability chambers to conform to ICH Guidelines Q1B; Benchtop and Reach-in CO2 incubators for small to large scale, high volume cell culture; and baths/circulators for precise temperature control of laboratory devices. For more information on Caron, visit our website at www.caronproducts.com, contact us at 800-648-3042, fax 740-374-3760, or e-mail sales@caronproducts.com.

More from Software