Innovative Orbital Stretch-Wrappers Enable Oddly Shaped Items to be Shipped Without Containers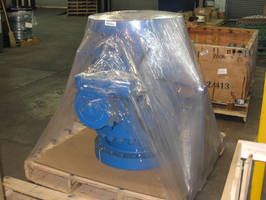 TAB Wrapper Tornado Secures Product to Pallet, Eliminates Packaging Waste



Reading, PA: The TAB Wrapper Tornado line of orbital stretch-wrapping machines from TAB Industries, LLC, Reading, Pa. (www.tabwrapper.com), secures unwieldy, irregular and otherwise oddly shaped items to their pallets to permit transport without wood packing crates, banding or excess manual wrapping. Eliminating the excess packaging and its associated costs, the TAB Wrapper Tornado line wraps plastic stretch film 360 degrees around and under the pallet and its oddly shaped load to create a single, secure load that keeps the product in place without shifting, rotating or falling over during transport. In addition, by wrapping the irregular products in clear, plastic film, the orbital wrapper line permits easy inspection throughout the shipping process without requiring uncrating or disrupting the integrity of the packaging.



Ideal for safely transporting tube and pipe, barrels and drums, stone pavers, gas cylinders, machine parts, sub-assemblies and other products that confound packaging crews, the TAB Wrapper Tornado line allows the palletized load to be wrapped in 60 seconds or less while raised on a forklift. The TAB Wrapper Tornado line features three, standard, semi-automatic models to accommodate 60" x 60", 48" x 48" and 24" x 24" skids with fully automatic and custom sizes available to suit unique packaging needs. Designed and manufactured in the company's Reading, Pennsylvania headquarters, the TAB Wrapper Tornado line ships fully assembled with a full warranty ready to plug in and operate.



For a free brochure or more information, contact TAB Industries, LLC, 2525 N. 12th Street, Reading PA 19605; 610-921-0012; info@tabwrapper.com or see www.tabwrapper.com.

Related