Innovative Mounting Plate Saves Time and Money When Installing Conduit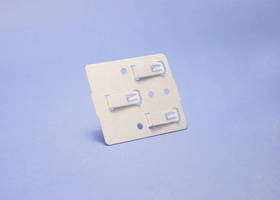 SOLON, Ohio, USA, October 2009 - The SBT18 Multiple Conduit Mounting Plate, part of the CADDY® line of fasteners from ERICO®, enables contractors to install up to three runs of conduit on a variety of surfaces, including beams, purlins, metal and wood studs, and plain and threaded rods.

Traditionally, contractors use a time-consuming method to run conduit that involves cutting lengths of strut, clamping those lengths to the mounting surface and using strut clamps to attach the conduit. The SBT18 provides for quick and easy snap-in attachment of up to three conduit clips and requires no tools for installation. And, when compared to a traditional conduit installation, the SBT18 offers over 80% savings on material and labor.

The SBT18 is available in a variety of pre-riveted assemblies, including hammer-on, beam clamp and multi-function clip. When used with a footed box support, the SBT18 facilitates conduit runs below raised floors.

The versatile mounting plate installs horizontally or vertically. It aligns with standard 1-½" deep electrical box knockouts and mounting holes. Because of this, the SBT18 eliminates conduit bends for ½" and ¾" sizes.

For more information on how the STB18 Multiple Conduit Mounting Plate can save time and money on your next installation, call 1-800-25-CADDY or visit www.erico.com.

ERICO® is a leading global designer, manufacturer and marketer of precision-engineered specialty metal products serving niche markets in a diverse range of electrical, construction, utility and rail applications. The company is headquartered in Solon, Ohio, USA with a network of sales locations serving more than 25 countries and with manufacturing and distribution facilities worldwide. ERICO's well-known brand names include: CADDY® electrical and mechanical fixings, fasteners and supports; CADWELD® welded electrical connections; CRITEC® surge protection devices; ERICO® rail and industrial products; ERIFLEX® low voltage power distribution; ERITECH® facility electrical protection; and LENTON® concrete products. Visit ERICO online at www.erico.com.

More from Optics & Photonics