Innovative Marine Blower Impresses Industry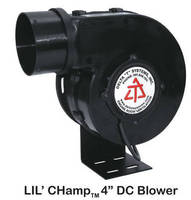 For years, boat owners and builders have clamored for a small, reliable, high-performance blower designed specifically for marine conditions. Delta "T" Systems provides just that with its proven LIL' Champ 4" DC Blower. Producing a free air flow rate of 350 cu. ft. per minute (CFM), the heavy-duty unit exceeds all other comparable blowers by at least 100 CFM.

The top contender in its class, the powerful LIL' Champ 4" DC Blower has an internally-mounted and enclosed, double-shielded ball bearing, TEAO motor. It also features a stainless steel shaft with O-ring seals and dynamically-balanced armatures. Available in both 12 and 24V models, the advanced unit is continuous-duty-rated and ignition protected for use in any application.

With an adaptable mounting system, the versatile DC Blower has a virtually limitless variety of installation configurations. The powder-coated universal mounting bracket provides an extremely secure attachment point to the vessel.

The compact LIL' Champ 4" DC Blower from Delta "T" Systems has a suggested retail price of just $215.

As a leader in the marine ventilation industry, Delta "T" Systems carries a full line of DC fans, blowers and controls, including 9" and 11" DC Axial Fans capable of producing 737 and 1,424 CFM respectively. The company also offers the latest in DC fan control systems. Its next-generation DCT2 is capable of controlling four DC fans or blowers in either fully-automatic or manual modes. Available in 12 and 24V versions, the new unit has reduced current draw, simple installation and fire shutdown capabilities.

Contact Delta "T" Systems, 858 W 13th Ct., Riviera Beach, FL 33404. 561 204 1500; Fax: 561-848-1611. info@deltatsystems.com; www.deltatsystems.com.


More from Construction Equipment and Supplies