Innovative JBT Food Tech Aftermarket Group Elevates Manufacturer Service with an Assist from REO-USA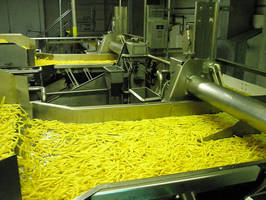 INDIANAPOLIS – They're the unsung heroes of many manufacturing operations, the outside service specialists whose sole mission is to keep equipment in prime productive condition. That's why they're hired. While new processing and packaging machines loaded with the latest technology draw attention, service typically takes a back seat; routine maintenance, periodic repairs, the occasional emergency due to a sudden breakdown, and quickly clearing a bottleneck in order to get a line back up and running.



The JBT Food Tech Aftermarket Group in Sandusky, Ohio, does all that and more. They specialize in food processing - including snack foods, the baking industry and pet food producers - across the Continental United States. JBT services high-volume clientele, typically running 24/7. And "running" is the operative term.



"Preparing 5,000 pounds of potato chips an hour, for example, isn't unusual for the kind of companies we serve," says Steve Elrick, Aftermarket Sales Representative and veteran service technician. "Think about how small and lightweight potato chips are, however, and that's a huge volume.  Of course, some of our other clients move more than 10 times that much tonnage in more-condensed products."



Multi-make service expertise, with versatile control technology from REO-USA



One type of production-line equipment with which JBT works is even more unsung than the rest: conveyors. Food firms rely on vibratory conveyors to transport those potato chips and other goods from the oven or other processing equipment to filling and packaging machines. Depending on the product being moved, they may be 30 feet long or only 3-4 feet.  To say they're taken for granted is probably an understatement, but when a conveyor stops everything else comes to a screeching halt.



Controllers play a key role in maintaining desired conveyor speeds while also helping to ensure that goods are properly measured and packages precisely filled. For several years and several reasons, JBT has relied to a considerable degree on control technology provided by Indianapolis, Indiana-based REO-USA.



"REO-USA has provided us a product that is broad enough in its application that we can tweak it to solve customer-specific problems at different facilities," asserts Mike Prosser, JBT Aftermarket Sourcing Manager and de facto manager of the vibratory conveyor business unit. 



Elrick expands on the point. "Start with a standard REO-USA off-the-shelf control. The software that goes in it is the key. Rick Jones (Senior Director of Engineering, REO-USA) and his people have developed per our request, customized control software to work with our applications, our coils, sensors and everything in between. This helped us develop improvements in our control product and other service products so that we can go into a food processor and repair any brand. In short, we can fix just about anything."



"Fix" is the bare minimum of service JBT Food Tech's Aftermarket Group provides.



"We're always on the lookout for ways to improve line performance," says Prosser. "We have a good solution with various options – REO-USA technology being an important one – which we can adjust to each customer's unique needs."



Those unique needs also encompass equipment other than machines manufactured by JBT. "Our equipment works side-by-side and hand-in-hand with other makes," Elrick points out. "Some controls, for example, may not be as efficient as ours. We're able to apply our controller to their equipment and get a better result."



Such upgrades are a value-added extra with JBT service specialists, thanks to the flexibility of technology they get from REO-USA. "We can essentially retrofit that control to a vast array of applications," Prosser notes.



Collaboration delivers more-powerful low frequency equipment-matched controls



Many of the machines in companies serviced by JBT's Aftermarket Group are far from new, a fact that helped trigger collaboration with REO-USA several years ago, shortly after the service group was formed.



"We were looking for more powerful, low frequency controllers to drive the units," Elrick explains. "You have to use pulse-width modulation to control the frequency and, at the time, such controllers could only put out a limited amount of power. We looked at several control manufacturers, but they weren't quite up to speed with what we were doing.



"We knew that we could work with REO-USA, because of their familiarity with the industry, control technology and understanding of what we were looking for. We generally operate at a lower frequency with tighter parameters than other vibratory feeders on the market. In the conveyor world, our offering fits right in with the vast majority of machines we service. It's an ideal match."



Since development of the initial, more powerful control product, several REO-USA iterations have addressed newly identified JBT and food processing customer needs. Furthermore, JBT challenged Jones and his cohorts with another application involving a large feeder that took even more load. REO-USA developed a custom configuration that nearly doubled the power of the controller.  Mission accomplished.



Just as food processors rely on JBT, the Aftermarket Group looks to REO-USA for team-like partnering that benefits all parties. Providing a control product with numerous options within the standard configuration extends advanced technology to more applications. Being able to further alter controls – sometimes working directly with JBT customers – to meet individual requirements is another plus.



Then there's inventory. REO-USA is able to hold stock for the JBT Aftermarket Group, controllers as well as several magnet styles that fit their needs, thus saving JBT and/or its clientele the expense without sacrificing vital service or repair response time.



Prosser emphasizes the point.  "When customers who run 24/7 have a breakdown, it's critical that they get repair parts and service as fast as possible. With so many products being processed, downtime is simply not acceptable. The fact that REO-USA holds stock for us in Indianapolis and can get it to us quickly so we, in turn, can get it to our customers, is a vital component of our business. High-volume customers who run extensively need that type of availability to keep their businesses going.



"That's why it's important to have a supplier like REO-USA willing to make that commitment."



For more information, call 317-899-1395, email info@reo-usa.com, or visit www.reo-usa.com.



Related