Innovative GORE(TM) LYOGUARD® Tray System to Deliver Freeze-Dried Plasma to Military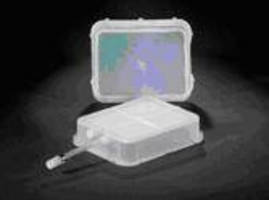 Elkton, MD (January 08, 2009) - W. L. Gore & Associates, Inc., announces an innovative GORE(TM) LYOGUARD® Freeze-Drying Tray System for exclusive, proprietary use by HemCon Medical Technologies, Inc., as the delivery system for its new freeze-dried plasma product for the United States Army. Recently awarded a U.S. government grant to develop, test, and secure FDA approval for a lyophilized (freeze-dried) human plasma (LHP) product, HemCon turned to Gore for a stable, contaminant-free delivery system for the plasma.

GORE(TM) LYOGUARD® Freeze-Drying Tray System

HemCon worked closely with the U.S. Army to develop specifications and requirements for a packaging system that could eliminate the current logistical barriers to using fresh frozen plasma in the field. By using GORE(TM) LYOGUARD® Trays, HemCon can fill, freeze-dry, and reconstitute the plasma in Gore's innovative "closed" system. If trials are successful, the U.S. Army will be able to transport the LHP more easily without the need for refrigeration. The medical team can then reconstitute the LHP in less than two minutes, rather than having to wait 20 minutes to thaw frozen plasma - a time difference that can save a life.

GORE(TM) LYOGUARD® Freeze-Drying Trays use a proprietary ePTFE membrane to create the closed-system design that reduces contamination of the plasma. This membrane prevents liquids and particulates from passing through the membrane, while at the same time, allowing freeze-drying to occur by letting vapors and gases flow through freely.

Fred Giordano, applications engineer at Gore, described the configuration of the tray for HemCon. "One of Gore's core values is to deliver products based on fitness for use, which means that we deliver the best product to meet or exceed the customer's expectations for its specific application. The GORE(TM) LYOGUARD® Tray is proven technology that has been used for many years in freeze-drying pharmaceutical products. HemCon needed a smaller tray in which to process the plasma and a container that could be used for transport. We configured a tray that holds one unit of plasma, and we added a cover that improves processing and protects the LHP during transport."

HemCon selected the GORE(TM) LYOGUARD® Freeze-Drying System as a container for its freeze-dried plasma because of prior experience working with Gore's innovative products. Simon McCarthy, Ph.D., global head, chief scientist of research at HemCon, describes their relationship with Gore, "We have used Gore's freeze-drying products successfully with our current hemostatic HemCon® Bandage. For the freeze-dried plasma project, we partnered to adapt a GORE(TM) LYOGUARD® container that met our specifications for field use, ruggedness, and size. We desired a container that could protect the plasma before, during, and after the lyophilization process itself, and in addition, be easily and safely transported without compromising the LHP. We are confident that the technology behind GORE(TM) LYOGUARD® Freeze-Drying Products will enable us to provide a delivery system that meets the needs of the U.S. Army."

About W. L. Gore & Associates, Inc. and GORE® PharmBIO Products

Gore is a world-renown manufacturer of thousands of advanced technology products and is perhaps best known as the inventors of ePTFE and the makers of GORE-TEX® fabric. With more than $2.5 billion in annual sales and 8,000 employees in 80 countries throughout the world, W. L. Gore & Associates, Inc., provides diverse, high-performance solutions in pharmaceutical, consumer, industrial, electronic, medical and surgical markets.

As a business initiative within the Enterprise, Gore PharmBIO Products develops innovative, technology-driven products and applications to better serve the global pharmaceutical and bioprocess markets. W. L. Gore & Associates has cultivated a unique corporate culture, resulting in a high-energy commitment to innovation and a passionate belief in making a difference. Gore PharmBIO Products supports the Enterprise's pledge to maintain product leadership and create dependable and reliable products and services for its customers. For more information about W. L. Gore & Associates, Inc. and Gore PharmBIO Products, call 1/800-368-GORE (4673), or visit gore.com/pharmbio.

About HemCon Medical Technologies, Inc.

HemCon Medical Technologies Inc. is a leading global developer of advanced medical products designed to improve the standard of patient care. The company is responsible for developing the chitosan-based HemCon dressing used by thousands of military and civilian first responders and is changing wound care best practices in hospital, dental and clinical settings. In addition, HemCon is leading the charge to develop and license unique, life-saving medical advances including Lyophilized Human Plasma and Nanospider(TM) technologies. HemCon is headquartered in Portland, Oregon, with additional commercial operations in Ireland; England; Germany and the Czech Republic. For more information, please visit hemcon.com.

Contact

Greg Apps

(410) 506-8783

gapps@wlgore.com

Gore, GORE-TEX, LYOGUARD, and design are registered trademarks of W. L. Gore & Associates, Inc.

HemCon, HemCon Bandages, and Nanospider are registered trademarks of HemCon Medical Technologies, Inc.

More from Electrical Equipment & Systems