Innovative Duct Sealing Technology to be Featured on Holmes & Holmes / DIY Network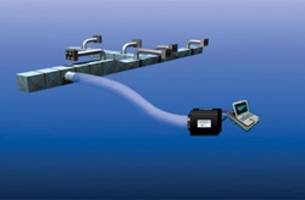 Master Builder Mike Holmes Uses Advanced Duct Sealing Method To Maximize Comfort, Energy Efficiency And Indoor Air Quality Of New Home
CENTERVILLE, OHIO (PRWEB) SEPTEMBER 04, 2018 - An innovative approach to duct sealing that can quickly seal an entire duct system to industry's tightest building code requirements will be featured on an upcoming episode of Holmes & Holmes. Scheduled to debut throughout the U.S. on the DIY network during the week of September 17th, episode 10 of Holmes & Holmes will show how this new technology is used to improve the indoor comfort, energy efficiency and indoor air quality of new and existing homes.
The advanced technology, called aeroseal, represents a breakthrough for builders, HVAC professionals and homeowners looking to significantly reduce energy costs and improve home comfort. The Holmes & Holmes episode shows viewers how aeroseal's unique approach to duct sealing can quickly and cost effectively seal leaks throughout the entire duct system – even those portions that are hidden behind walls, under insulation or are otherwise inaccessible using traditional duct sealing methods.
Exact show dates and times may differ from region to region depending upon local scheduling, cable and satellite programing and other factors. The program will also appear in Canada later this fall, on the HGTV Network.
"Builders and home contractors have long understood that leaks in the ductwork are one of the most significant factors affecting home energy usage and room-to-room comfort," said Ken Summers, co-founder of Comfort Institute, an international research and home performance training organization. "But since traditional duct sealing methods are often disruptive and ineffective, the problem is commonly ignored. This Holmes & Holmes program shows that there is now a highly effective way to quickly and easily get the job done."
Developed with funding from the U.S. Department of Energy, aeroseal technology works from inside the ductwork to find and seal leaks. This inside/out approach to sealing provides quick and easy access to the entire duct system. The computer-controlled sealing system allows live monitoring of the sealing process and generates a final report with before and after results. A 2001 study conducted by the DOE found aeroseal technology to be 50% more effective at sealing duct leaks than manual sealing methods and can potentially reduce labor time and costs for duct sealing by 70%, or almost 4 crew-hours.
Holmes & Holmes is the latest program hosted by master home builder Mike Holmes, in which he, along with his son, tackles home building and renovation projects, correcting contractor errors and showing viewers best home improvement practices. In 2012, Mike Holmes was listed #3 in Forbes list of most trustworthy celebrities, following behind Morgan Freeman and Ron Howard.
To learn more about aeroseal technology, visit http://www.aeroseal or call (937) 428-9300. For more information on Holmes & Holmes on the DIY Network or to view previous episodes of the program, visit http://www.diynetwork.com/shows/holmes-and-holmes.
Contact Information
BRAD BRENNER
Brenner Associates
+1 (503) 736-0610
More from Electronic Components & Devices