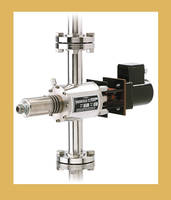 OFFSHORE TECHNOLOGY
Stop by our Booth #2808 to see how our instrumentation will benefit your application!
AMETEK Brookfield is the world leader in viscometers and provides dependable instruments that provide greater efficiency for viscosity measurement and control of frac fluids, real-time drilling fluids as well as cuttings re-injection.
The TT100 Viscometer for inline systems applications is the perfect system for defined shear in-line measurement systems. With a variety of configurations available, it is adaptable for multiple applications and meets many industry standards due to its highly scientific measurement technique.
AMETEK Brookfield
11 Commerce Blvd.
Middleboro, MA 02346
Phone: 508-946-6200
Url: http://www.brookfieldengineering.com
Contact:
Steve Cicchese
Director - Process Sales
Email: steve.cicchese@ametek.com
More from Electrical Equipment & Systems