Inline Sheeter/Stacker gently processes material.
Press Release Summary: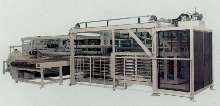 Designed for constant operation, system is automation engineered to operate inline without stopping user's existing production line. System edge trims pressure- and light-sensitive material with score slitter, and flying knife cutter locks on at web speed to cut exact length. Vacuum pick-and-place system locates itself on sheet, picks it up, and carries it to cart, which is built with multiple levels of trays that accommodate small groups of stacked sheets.
---
Original Press Release:
Non-Stop Inline Sheeter/Stacker Gently Processes Materials

Designed for 24 hours-a-day, 7 days-a-week operation, this system is automation engineered to operate inline, without stopping the customer's existing production line.

The system edge trims a pressure and light-sensitive material with a score slitter, the material moves past an operator for visual inspection, then moves to the cutter. The flying knife cutter locks on at web speed and cuts exact length - as the web keeps moving. A vacuum pick-and-place system then locates itself on the sheet, picks it up, and carries it to a cart.

Due to pressure sensitivity the sheets cannot be stacked higher than 2.5", so the cart is built with multiple levels of trays accommodating small groups of stacks. The cart can then be moved to a packaging operation that places each stack in a box.

CONTECH's custom Automation Engineering capability allows them to design, engineer, and build systems to a customer's exact specifications, making them completely compatible with existing plant equipment. CONTECH manufactures a complete line of material processing equipment including slitters, sheeters, rewinders, applicators and more.

CONTECH, 1756 S. 151st St. West, Goddard, KS 67052, (800) 961-6449 Fax: (316) 722-2976, www.contech-usa.com
More from Sensors, Monitors & Transducers